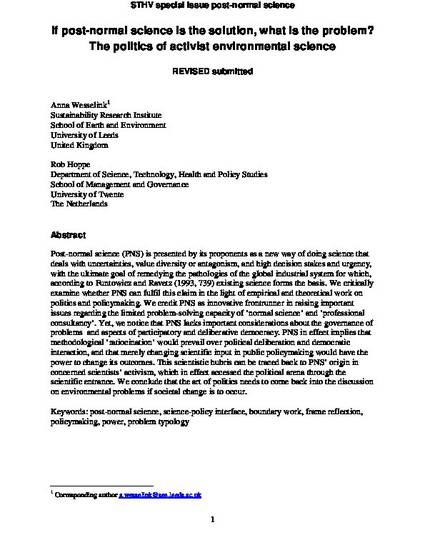 Article
If post-normal science is the solution, what is the problem?
Science, Technology and Human Values (2011)
Abstract
Post-normal science (PNS) is presented by its proponents as a new way of doing science that deals with uncertainties, value diversity or antagonism, and high decision stakes and urgency, with the ultimate goal of remedying the pathologies of the global industrial system for which, according to Funtowicz and Ravetz (1993, 739) existing science forms the basis. We critically examine whether PNS can fulfil this claim in the light of empirical and theoretical work on politics and policymaking. We credit PNS as innovative frontrunner in raising important issues regarding the limited problem-solving capacity of 'normal science' and 'professional consultancy'. Yet, we notice that PNS lacks important considerations about the governance of problems and aspects of participatory and deliberative democracy. PNS in effect implies that methodological 'ratiocination' would prevail over political deliberation and democratic interaction, and that merely changing scientific input in public policymaking would have the power to change its outcomes. This scientistic hubris can be traced back to PNS' origin in concerned scientists' activism, which in effect accessed the political arena through the scientific entrance. We conclude that the art of politics needs to come back into the discussion on environmental problems if societal change is to occur.
Keywords
post-normal science,
science-policy interface,
boundary work,
frame reflection,
policymaking,
power,
problem typology
Citation Information
Robert Hoppe and Anne Wesselink. "If post-normal science is the solution, what is the problem?"
Science, Technology and Human Values
(2011)
Available at: http://works.bepress.com/robert_hoppe1/17/