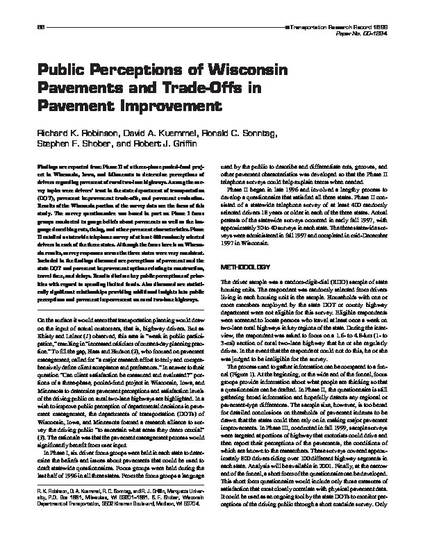 Article
Public Perceptions of Wisconsin's Pavements and Tradeoffs in Pavement Improvement
Transportation Research Record: Journal of the Transportation Research Board
Publication Date
1-1-2001
Publisher
National Academy of Sciences
Abstract
Findings are reported from Phase II of a three-phase pooled-fund project in Wisconsin, Iowa, and Minnesota to determine perceptions of drivers regarding pavement of rural two-lane highways. Among the survey topics were drivers' trust in the state department of transportation (DOT), pavement improvement trade-offs, and pavement evaluation. Results of the Wisconsin portion of the survey data are the focus of this study. The survey questionnaire was based in part on Phase I focus groups conducted to gauge beliefs about pavements as well as the language describing ruts, tining, and other pavement characteristics. Phase II entailed a statewide telephone survey of at least 400 randomly selected drivers in each of the three states. Although the focus here is on Wisconsin results, survey responses across the three states were very consistent. Included in the findings discussed are perceptions of pavement and the state DOT and pavement improvement options relating to construction, travel time, and delays. Results disclose key public perceptions of priorities with regard to spending limited funds. Also discussed are statistically significant relationships providing additional insights into public perceptions and pavement improvement on rural two-lane highways.
Citation Information
Richard Robinson, David Kuemmel, Ronald C. Sonntag, Stephen F. Shober, et al.. "Public Perceptions of Wisconsin's Pavements and Tradeoffs in Pavement Improvement"
Transportation Research Record: Journal of the Transportation Research Board
(2001) ISSN: 0361-1981
Available at: http://works.bepress.com/robert_griffin/5/