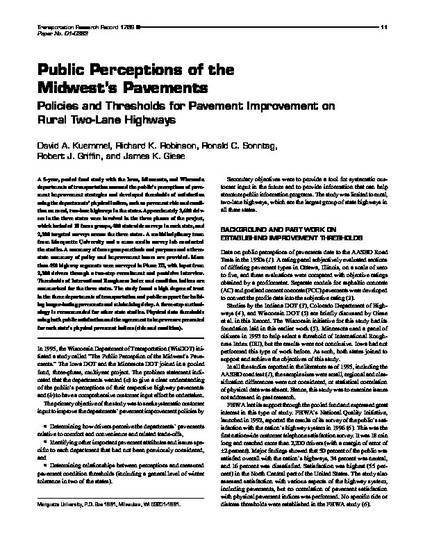 Article
Public Perceptions of the Midwest's Pavements: Policies and Thresholds
Transportation Research Record
Publication Date
1-1-2002
Publisher
National Academy of Sciences
Original Item ID
doi: 10.3141/1769-02
Abstract
A 5-year, pooled fund study with the Iowa, Minnesota, and Wisconsin departments of transportation assessed the public's perceptions of pavement improvement strategies and developed thresholds of satisfaction using the departments' physical indices, such as pavement ride and condition on rural, two-lane highways in the states. Approximately 3,600 drivers in the three states were involved in the three phases of the project, which included 18 focus groups, 400 statewide surveys in each state, and 2,300 targeted surveys across the three states. A multidisciplinary team from Marquette University and a mass media survey lab conducted the studies. A summary of focus group methods and purposes and a three-state summary of policy and improvement issues are provided. More than 450 highway segments were surveyed in Phase III, with input from 2,300 drivers through a two-step recruitment and postdrive interview. Thresholds of International Roughness Index and condition indices are summarized for the three states. The study found a high degree of trust in the three departments of transportation and public support for building longer-lasting pavements and minimizing delay. A three-step methodology is recommended for other state studies. Physical data thresholds using both public satisfaction and the agreement to improve are presented for each state's physical pavement indices (ride and condition).
Citation Information
David Kuemmel, Richard Robinson, Ronald C Sonntag, Robert Griffin, et al.. "Public Perceptions of the Midwest's Pavements: Policies and Thresholds"
Transportation Research Record
(2002) ISSN: 0361-1981
Available at: http://works.bepress.com/robert_griffin/12/