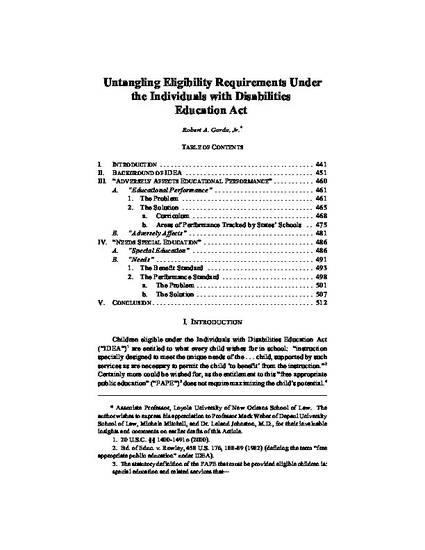 Article
Untangling Eligibility Requirements Under the Individuals With Disabilities in Education Act
Missouri Law Review (2004)
Abstract
Finding a child eligible for special education under the Individuals with Disabilities Education Act (IDEA) is one of the most important, if not the most important, decision that will be made in that child's life. Despite the importance of eligibility determinations the eligibility criteria of IDEA are intricately tangled and often misapplied by courts, hearing officers and inevitably parents and educators. The confusion surrounding eligibility standards leads to the disastrous results of both over-identification and under-identification of IDEA eligible children. This Article attempts to untangle the web of IDEA eligibility standards in order to determine who is entitled to its extensive benefits. IDEA requires that in order for a child to be eligible the child must have an enumerated disability that adversely affects the child's educational performance and by reason thereof the child needs special education. The Article proposes that the term "educational performance" include all areas of performance required in the state curriculum and all areas of performance tracked by the state's schools. Therefore, a disability that leads to poor behavior adversely affects the child's educational performance, despite the child's good grades, if the state curriculum requires instruction in behavior or the state schools track behavior. The Article also discusses the "needs special education" requirement and concludes that it is indeed a limit on IDEA eligibility separate from the "adversely affects" element. The Article concludes that IDEA does not require finding that a child needs special education merely because the child can benefit from it. Rather, a need for special education should be found only when the child is performing poorly or below average in any area of educational performance. Accordingly, children performing better than their peers do not need special education and are not eligible even if their disability adversely affects their educational performance. This article is intended to provide courts, hearing officers, educators and parents a clear roadmap to IDEA's eligibility criteria and the tools to make correct eligibility decisions.
Keywords
Individuals with disabilities education act,
eligibility,
educational performance,
need special education
Publication Date
Spring 2004
Citation Information
Robert A. Garda. "Untangling Eligibility Requirements Under the Individuals With Disabilities in Education Act"
Missouri Law Review
Vol. 69 (2004)
Available at: http://works.bepress.com/robert_garda/4/