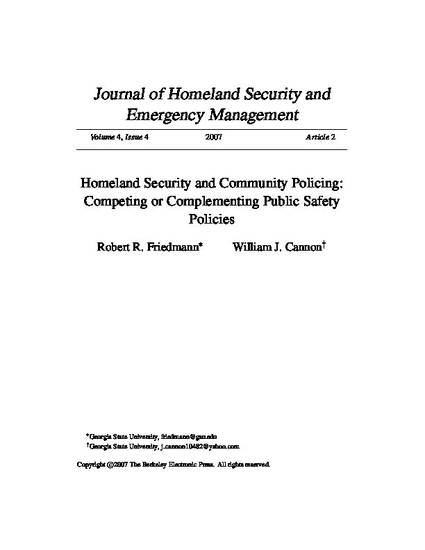 Article
Homeland Security and Community Policing: Competing or Complementing Public Safety Policies
Criminal Justice and Criminology Faculty Publications
Publication Date
1-1-2007
Abstract
In the aftermath of the September 11, 2001, terrorist atrocities in the United States, a new organizational policy was introduced as "Homeland Security." Both a concept and a governmental department, homeland security became the "in" policy, and as such invented a new organization and a new approach to public safety. As a result, however, the dominant policing policy up to that time — Community Policing — was largely sidestepped by homeland security efforts as well as budgets. The purpose of this article is to demonstrate that the two public safety policies actually have a great deal in common, and that homeland security is to benefit from integrating principles of community policing in its localized strategies.
Citation Information
Friedmann, R.R. & Cannon, W.J. (2007) Homeland Security and Community Policing: Competing or Complementing Public Safety Policies.
Journal of Homeland Security and Emergency Management, 4
(4), Article 2. DOI: 10.2202/1547-7355.1371