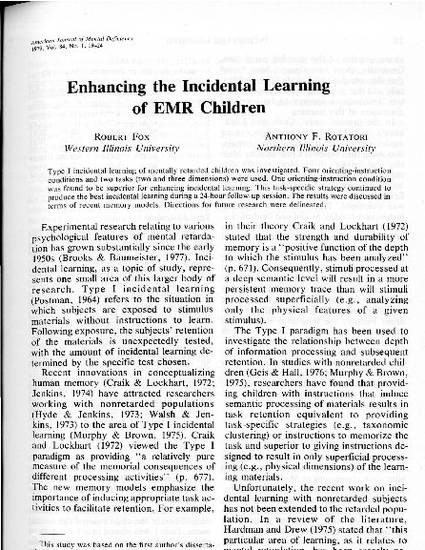 Article
Enhancing the Incidental Learning of EMR Children
American Journal of Mental Deficiency
Publication Date
1-1-1979
Publisher
American Association on Mental Deficiency (American Association on Intellectual and Developmental Disabilities)
Original Item ID
10.1080/10503300701432242
Abstract
Type I incidental learning of mentally retarded children was investigated. Four orienting-instruction conditions and two tasks (two and three dimensions) were used. One orienting-instruction condition was found to be superior for enhancing incidental learning. This task-specific strategy continued to produce the best incidental learning during a 24-hour follow-up session. The results were discussed in terms of recent memory models. Directions for future research were delineated.
Citation Information
Robert A. Fox and Anthony F. Rotatori. "Enhancing the Incidental Learning of EMR Children"
American Journal of Mental Deficiency
(1979) ISSN: 0002-9351
Available at: http://works.bepress.com/robert_fox/96/