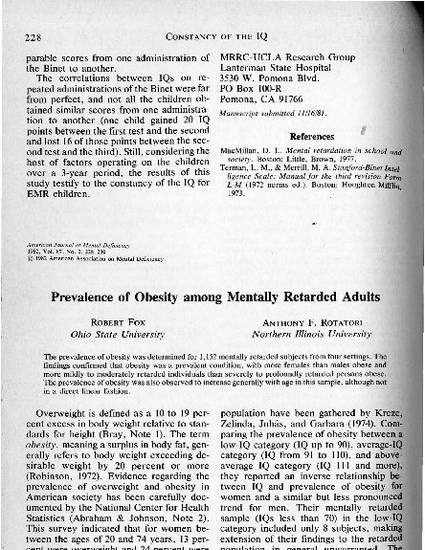 Article
Prevalence of Obesity Among Mentally Retarded Adults
American Journal of Mental Deficiency
Publication Date
1-1-1982
Publisher
American Association on Mental Deficiency (American Association on Intellectual and Developmental Disabilities)
Original Item ID
Shevles: RC326 .A415 Mem Periodicals
Abstract
The prevalence of obesity was determined for 1,152 mentally retarded subjects from four settings. The findings confirmed that obesity was a prevalent condition, with more females than males obese and more mildly to moderately retarded individuals than severely to profoundly retarded persons obese. The prevalence of obesity was also observed to increase generally with age in this sample, although not in a direct linear fashion.
Citation Information
Robert A. Fox and Anthony F. Rotatori. "Prevalence of Obesity Among Mentally Retarded Adults"
American Journal of Mental Deficiency
(1982) ISSN: 0002-9351
Available at: http://works.bepress.com/robert_fox/61/