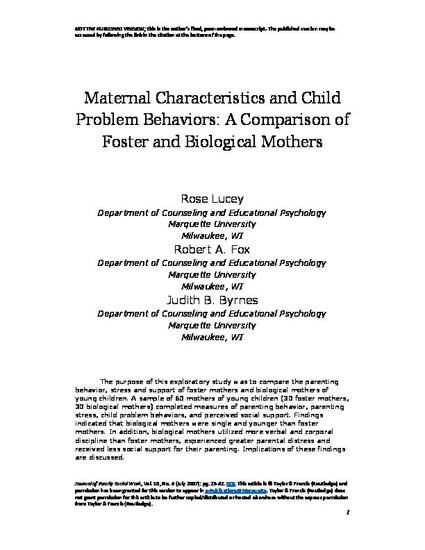 Article
Maternal Characteristics and Child Problem Behaviors: A Comparison of Foster and Biological Mothers
Journal of Family Social Work
Publication Date
7-1-2007
Publisher
Taylor & Francis (Routledge)
Abstract
The purpose of this exploratory study was to compare the parenting behavior, stress and support of foster mothers and biological mothers of young children. A sample of 60 mothers of young children (30 foster mothers, 30 biological mothers) completed measures of parenting behavior, parenting stress, child problem behaviors, and perceived social support. Findings indicated that biological mothers were single and younger than foster mothers. In addition, biological mothers utilized more verbal and corporal discipline than foster mothers, experienced greater parental distress and received less social support for their parenting. Implications of these findings are discussed.
Citation Information
Rose Lucey, Robert A. Fox and Judith B. Byrnes. "Maternal Characteristics and Child Problem Behaviors: A Comparison of Foster and Biological Mothers"
Journal of Family Social Work
(2007) ISSN: 1052-2158
Available at: http://works.bepress.com/robert_fox/57/