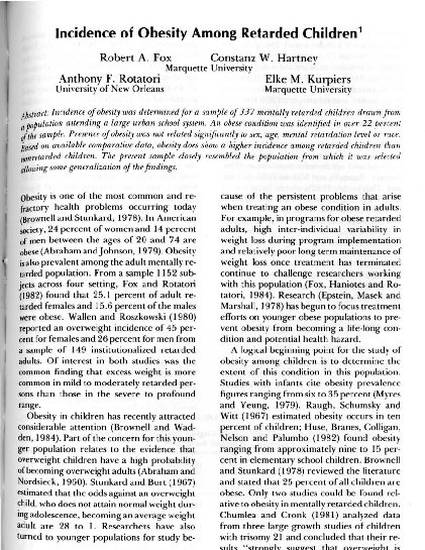 Contribution to Book
Incidence of Obesity Among Mentally Retarded Children
Education and Training of the Mentally Retarded
Publication Date
9-1-1985
Publisher
Council for Exceptional Children, Division on Mental Retardation
Original Item ID
Shelves: Memorial Periodicals; Call No.
Abstract
An international survey of professionals in the field of mental retardation was conducted to determine significant research priorities in the education of students with mild retardation. A total of 67 individuals responded to survey which represented 83.7% of those contacted. Among the issues rated most highly were two clusters: vocational, career education and post-school adjustment and long term effects and generalization of effects of programs. Implications of the survey data are discussed and recommendations are provided.
Citation Information
Robert A. Fox, Constanz W. Hartney, Anthony F. Rotatori and Elke M. Kurpiers. "Incidence of Obesity Among Mentally Retarded Children"
Education and Training of the Mentally Retarded
(1985) ISSN: 0013-1237
Available at: http://works.bepress.com/robert_fox/44/