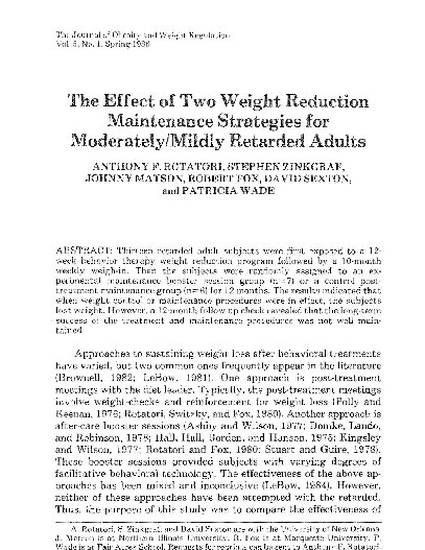 Article
The Effect of Two Weight Reduction Maintenance Strategies for Moderately/Mildly Retarded Adults
Journal of Obesity and Weight Regulation
Publication Date
4-1-1986
Publisher
Human Sciences Press (Springer)
Abstract
Thirteen retarded adult subjects were first exposed to a 12-week behavior therapy weight reduction program followed by a ten-month weekly weigh-in. Then the subjects were randomly assigned to an experimental maintenance booster session group (n=7) or a control post-treatment maintenance group (n=6) for 12 months. The results indicated that when weight control or maintenance procedures were in effect, the subjects lost weight. However, a 12-month follow-up check revealed that the long-term success of the treatment and maintenance procedures was not well maintaned.
Citation Information
Anthony F. Rotatori, Stephen Zinkgraf, Johnny Matson, Robert Fox, et al.. "The Effect of Two Weight Reduction Maintenance Strategies for Moderately/Mildly Retarded Adults"
Journal of Obesity and Weight Regulation
(1986) ISSN: 0731-4361
Available at: http://works.bepress.com/robert_fox/33/