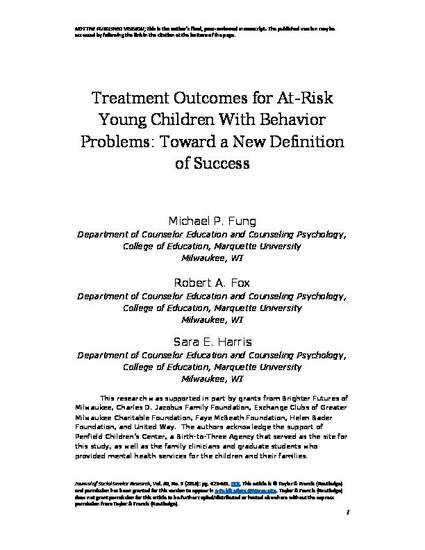 Article
Treatment Outcomes for At-Risk Young Children With Behavior Problems: Toward a New Definition of Success
Journal of Social Service Research
Publication Date
1-1-2014
Publisher
Taylor & Francis (Routledge)
Abstract
This study examined the outcomes of Early Pathways (EP), an in-home parent–child therapy program with 447 at-risk children younger than 5 years of age who were referred for severe behavior and emotional problems, such as aggression, oppositional behavior, and separation anxiety. EP emphasized parent-directed training of child behavior strategies including psychoeducation regarding child development, child-led play, and cognitive-behavioral techniques. Outcomes were assessed using a unique 2-dimensional definition of treatment completion, which consisted of treatment duration and an assessment of reliable change for the primary outcome measure of child behavior problems. Results showed that the majority of children (63.4%) met or exceeded treatment completion. In addition, repeated-measures multivariate analyses of variance at pretest, posttest, and follow-up revealed increased child prosocial behaviors, reduced child behavior problems, improved caregiver nurturing, an increase in parents' developmentally appropriate expectations of children, improved parent–child relationships, and a decrease in clinical diagnoses following treatment. This study offers guidance for developing effective early-intervention services for families in poverty to enhance outcomes for their young children. Along with its existing large-scale, community-based effectiveness studies, future research should establish additional statistical support including a randomized, waitlist control design of EP.
Citation Information
Michael P. Fung, Robert A. Fox and Sara E. Harris. "Treatment Outcomes for At-Risk Young Children With Behavior Problems: Toward a New Definition of Success"
Journal of Social Service Research
(2014) ISSN: 0148-8376
Available at: http://works.bepress.com/robert_fox/136/