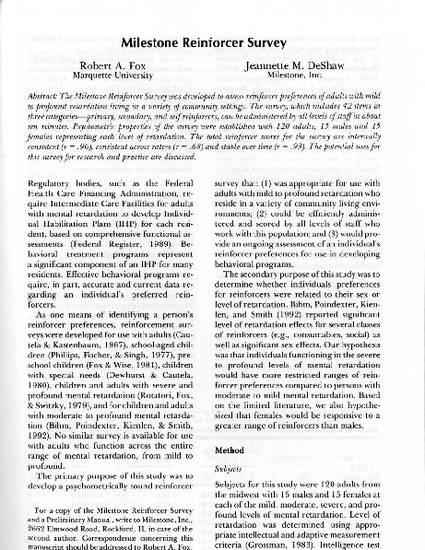 Article
Milestone Reinforcer Survey
Education and Training in Mental Retardation
Publication Date
9-1-1993
Publisher
The Council for Exceptional Children Division on Developmental Disabilities
Original Item ID
Shelves: HV894 .E3 Mem periodicals
Abstract
Abstract: The Milestone Reinforcer Survey was developed to assess reinforcer preferences of adults with mild to profound retardation living in a variety of community settings. The survey, which includes 42 items in three categories-primary, secondary, and self reinforcers, can be administered by all levels of staff in about ten minutes. Psychometric properties of the survey were established with 120 adults, 15 males and 15 females representing each level of retardation. The total reinforcer scores for the survey are internally consistent (r = .90), consistent across raters (r = .68) and stable over time (r = .93). The potential uses for this survey for research and practice are discussed.
Citation Information
Robert A. Fox and Jeannette M. DeShaw. "Milestone Reinforcer Survey"
Education and Training in Mental Retardation
(1993) ISSN: 0013-1237
Available at: http://works.bepress.com/robert_fox/109/