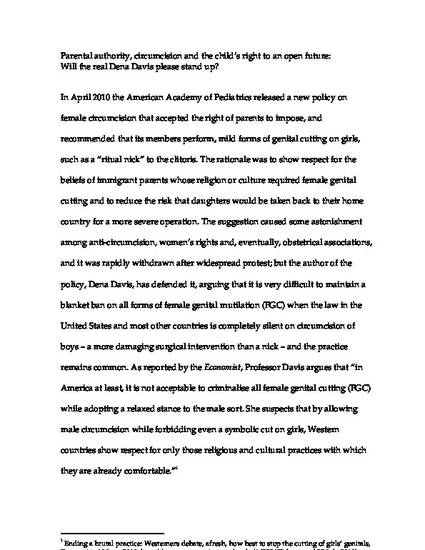 Unpublished Paper
PARENTAL AUTHORITY, CIRCUMCISION AND THE CHILD'S RIGHT TO AN OPEN FUTURE
ExpressO (2010)
Abstract
In April 2010 the American Academy of Pediatrics released a new policy on female circumcision that accepted the right of parents to impose, and recommended that its members perform, mild forms of genital cutting on girls, such as a "ritual nick" to the clitoris. The suggestion caused some astonishment, and was rapidly withdrawn, but its author, Dena Davis, has defended it, arguing that it is not acceptable to criminalise all female genital cutting while tolerating male circumcision; this is to show respect for only those religious and cultural practices with which they are already comfortable. Davis suggests that if physicians defer to the wishes to Jewish and Muslim parents to have their boys circumcised, it is discriminatory to refuse the wishes of some African and Muslim parents to have their girls circumcised. What is puzzling about these proposals is that until 2001 Davis was known as an advocate of children's rights and as the populariser of a principle known as the child's right to an open future, adapted from the legal philosopher Joel Feinberg. In previous studies she had argued forcefully that parents were not morally entitled to make decisions for children that foreclosed their future options or which sought to force them into roles that were inconsistent with their natural inclinations and potential. Defending the rights of parents to circumcise both boys and girls, however mildly in the latter case, does not sit well with such a liberal perspective. A review of Davis's publications reveals that the AAP's short-lived policy on FGC was the culmination of a campaign to change American practice that she initiated in 2001with an article defending the "Seattle compromise" and recommending both the "ritual nick" and some minor regulation of male circumcision. In this paper I describe Davis's original philosophical position, discuss her writings on circumcision, and evaluate the extent to which her analyses of and recommendations on male and female genital cutting are consistent or inconsistent with the principles she has advanced. Part I covers Davis's early writings on genetic dilemmas and her development of the open future principle. In Part II I consider whether the open future principle is applicable to physical alterations such as genital cutting and argue that it is. Part III analyses Davis's writings on male and female genital cutting, particularly her defence of the Seattle compromise and her comments on the case of Boldt v. Boldt. In part IV I attempt to explain why Davis does not apply the open future principle to genital cutting, and in Part V, a brief conclusion, I offer some broad policy suggestions.
Keywords
circumcision,
children's rights,
American Academy of Pediatrics,
female genital cutting
Publication Date
August 11, 2010
Citation Information
Robert Darby. "PARENTAL AUTHORITY, CIRCUMCISION AND THE CHILD'S RIGHT TO AN OPEN FUTURE"
ExpressO
(2010)
Available at: http://works.bepress.com/robert_darby/1/