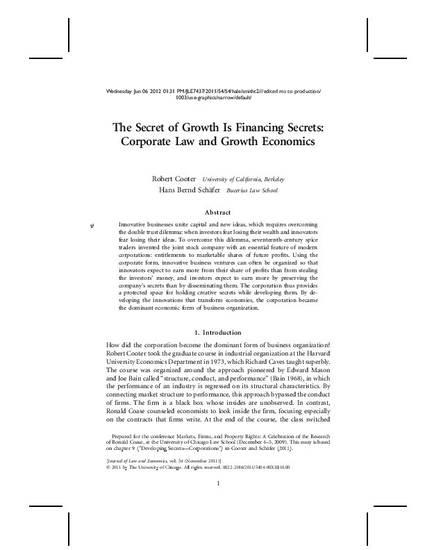 Article
The Secret of Growth Is Financing Secrets: Corporate Law and Growth Economics
Journal of Law and Economics (2011)
Abstract
Innovative businesses unite capital and new ideas, which requires overcoming the double trust dilemma -- investors fear losing their wealth and innovators fear losing their ideas. To overcome this dilemma, 17th century spice traders invented the joint stock company with an essential feature of modern corporations: entitlements to marketable shares of future profits. Using the corporate form, innovative business ventures can often be organized so that innovators expect to earn more from their share of profits than from stealing the investors' money, and investors expect to earn more by preserving the company's secrets than disseminating them. The corporation thus provides a protected space for holding creative secrets while developing them. By developing the innovations that transform economies, the corporation became the dominant economic form of business organization.
Keywords
corporations,
firm,
secrets,
secrecy,
development,
growth
Publication Date
November, 2011
Citation Information
Robert D. Cooter and Hans Bernd Schaefer. "The Secret of Growth Is Financing Secrets: Corporate Law and Growth Economics"
Journal of Law and Economics
Vol. 54 (2011)
Available at: http://works.bepress.com/robert_cooter/166/