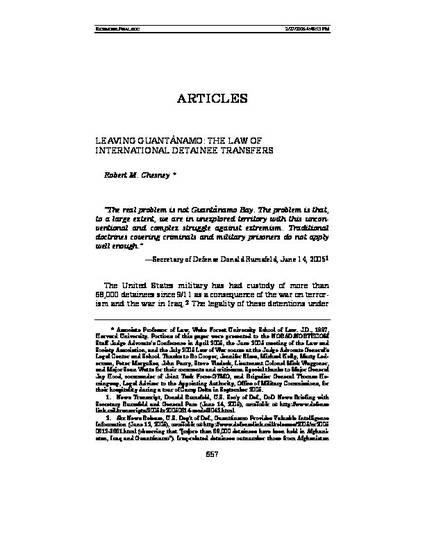 Article
Leaving Guantanamo: The Law of International Detainee Transfers
Richmond Law Review (2006)
Abstract
This article provides a comprehensive review of legal issues--constitutional, statutory, regulatory, and international (IHRL and IHL)--that arise when a noncitizen held as an enemy combatant at Guantanamo requests judicial oversight of a decision to transfer that person back to their country of citizenship (a request that has been made on numerous occasions based on the detainee's fear that he will be tortured upon such a transfer). The article includes extensive discussions of the interplay of international and domestic legal authorities, as well as an analysis of the Geneva Convention status of detainees.
Keywords
rendition,
guantanamo,
enemy combatants,
law of war,
prisoner of war status,
Geneva Convention,
non-refoulement
Publication Date
March, 2006
Citation Information
robert chesney. "Leaving Guantanamo: The Law of International Detainee Transfers"
Richmond Law Review
Vol. 40 (2006)
Available at: http://works.bepress.com/robert_chesney/7/