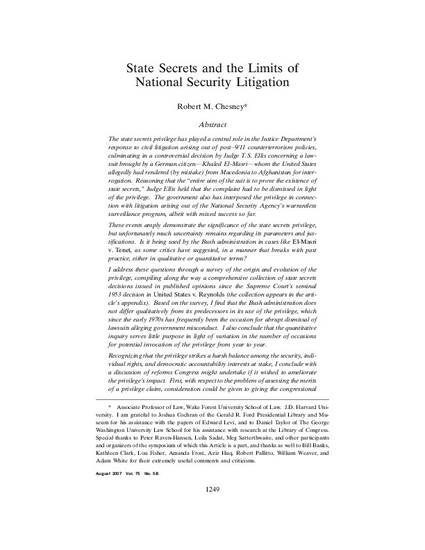 Article
State Secrets and the Limits of National Security Litigation
George Washington Law Review (2007)
Abstract
The state secrets privilege has played a central role in the Justice Department's response to civil litigation arising out of post-9/11 counterterrorism policies, culminating in a controversial decision by Judge T.S. Ellis concerning a lawsuit brought by a German citizen—Khaled El-Masri—whom the United States allegedly had rendered (by mistake) from Macedonia to Afghanistan for interrogation. Reasoning that the "entire aim of the suit is to prove the existence of state secrets," Judge Ellis held that the complaint had to be dismissed in light of the privilege. The government also has interposed the privilege in connection with litigation arising out of the National Security Agency's warrantless surveillance program, albeit with mixed success so far. These events amply demonstrate the significance of the state secrets privilege, but unfortunately much uncertainty remains regarding its parameters and justifications. Is it being used by the Bush administration in cases like El-Masri v. Tenet, as some critics have suggested, in a manner that breaks with past practice, either in qualitative or quantitative terms? I address these questions through a survey of the origin and evolution of the privilege, compiling along the way a comprehensive collection of state-secrets decisions issued in published opinions since the Supreme Court's seminal 1953 decision in United States v. Reynolds (the collection appears in the article's appendix). Based on the survey, I find that the Bush administration does not differ qualitatively from its predecessors in its use of the privilege, which since the early 1970s has frequently been the occasion for abrupt dismissal of lawsuits alleging government misconduct. I also conclude that the quantitative inquiry serves little purpose in light of variation in the number of occasions for potential invocation of the privilege from year to year. Recognizing that the privilege strikes a harsh balance among the security, individual rights, and democratic accountability interests at stake, I conclude with a discussion of reforms Congress might undertake if it wished to ameliorate the privilege's impact. First, with respect to the problem of assessing the merits of a privilege claim, consideration could be given to giving the congressional intelligence committees an advisory role in the evaluation process (on a supermajority basis). Second, with respect to the problem of harsh consequences for plaintiffs once the privilege is found to attach, special procedures might be adopted to permit litigation to continue in a protected setting (at least where unconstitutional government conduct is alleged).
Publication Date
August, 2007
Citation Information
robert chesney. "State Secrets and the Limits of National Security Litigation"
George Washington Law Review
Vol. 75 Iss. 5 (2007)
Available at: http://works.bepress.com/robert_chesney/2/