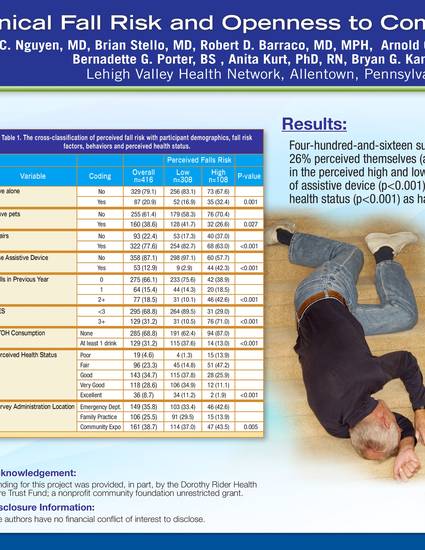 Presentation
Perceived Mechanical Fall Risk and Openness to Communication with Providers
Department of Emergency Medicine
Publication/Presentation Date
4-8-2014
Funder
Funding for this project was provided, in part, by the Dorothy Rider Health Care Trust Fund; a nonprofit community foundation unrestricted grant.
Citation Information
Greenberg, M., Nguyen, M., Stello, B., Barraco, R., Goldberg, A., Donnelly, C., Preiss, B., Gl-Porter, B., Kurt, A., & Kane, B. (2014, April 7-9). Perceived mechanical fall risk and openess to communication with providers. Poster presented at: The PaACEP Scientific Assembly, Harrisburg, PA.