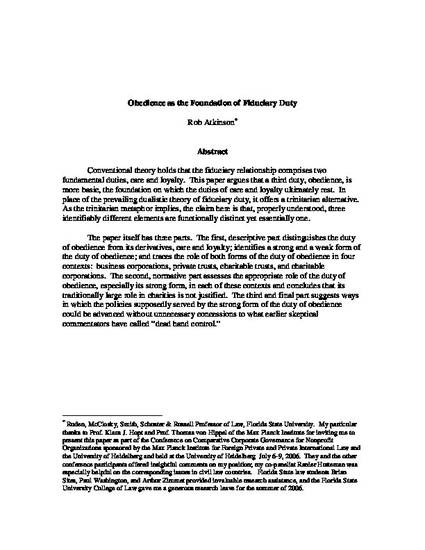 Unpublished Paper
Obedience as the Foundation of Fiduciary Duty
ExpressO (2008)
Abstract
Conventional theory holds that the fiduciary relationship comprises two fundamental duties, care and loyalty. This paper argues that a third duty, obedience, is more basic, the foundation on which the duties of care and loyalty ultimately rest. In place of the prevailing dualistic theory of fiduciary duty, it offers a trinitarian alternative. As the trinitarian metaphor implies, the claim here is that, properly understood, three identifiably different elements are functionally distinct yet essentially one.
The paper itself has three parts. The first, descriptive part distinguishes the duty of obedience from its derivatives, care and loyalty; identifies a strong and a weak form of the duty of obedience; and traces the role of both forms of the duty of obedience in four contexts: business corporations, private trusts, charitable trusts, and charitable corporations. The second, normative part assesses the appropriate role of the duty of obedience, especially its strong form, in each of these contexts and concludes that its traditionally large role in charities is not justified. The third and final part suggests ways in which the policies supposedly served by the strong form of the duty of obedience could be advanced without unnecessary concessions to what earlier skeptical commentators have called "dead hand control."
Publication Date
March 6, 2008
Citation Information
Robert E. Atkinson. "Obedience as the Foundation of Fiduciary Duty"
ExpressO
(2008)
Available at: http://works.bepress.com/robert_atkinson/1/