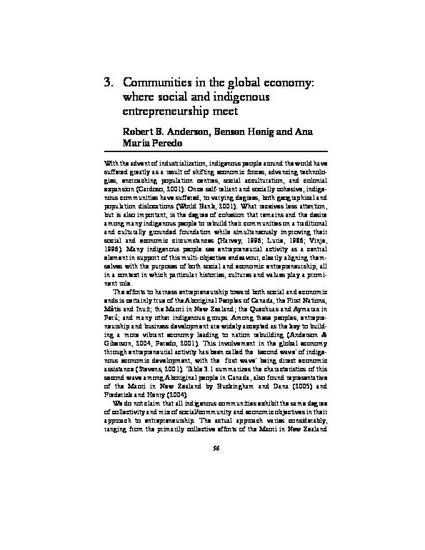 Contribution to Book
Communities in the global economy: where social and Indigenous entrepreneurship meet
Entrepreneuship as Social Change (2006)
Abstract
With the advent of industrialization, indigenous people around the world have suffered greatly as a result of shifting economic forces, advancing technologies, encroaching population centres, social acculturation, and colonial expansion (Cardoso, 2001). Once self-reliant and socially cohesive, indigenous communities have suffered, to varying degrees, both geographical and population dislocations (World Bank, 2001). What receives less attention, but is also important, is the degree of cohesion that remains and the desire among many indigenous people to rebuild their communities on a traditional and culturally grounded foundation while simultaneously improving their social and economic circumstances (Harvey, 1996; Lurie, 1986; Vinje, 1996). Many indigenous people see entrepreneurial activity as a central element in support of this multi-objective endeavour, clearly aligning themselves with the purposes of both social and economic entrepreneurship, all in a context in which particular histories, cultures and values play a prominent role.
Keywords
Indigenous entrepreneurship,
development,
social entrepreneurship
Citation Information
Robert B Anderson, Benson Honig and Ana Maria Peredo. "Communities in the global economy: where social and Indigenous entrepreneurship meet"
Entrepreneuship as Social Change
(2006)
Available at: http://works.bepress.com/robert_anderson1/6/