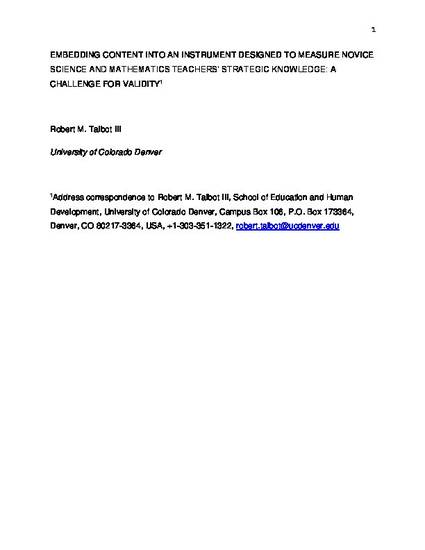 Article
Embedding Content into and Instrument Designed to Measure Novice Science and Mathematics Teachers' Strategic Knowledge: A Challenge for Validity
Proceedings of the International Conference on Mathematics, Science, and Technology Education. (2011)
Abstract
Strategic Knowledge (SK) is comprised of two dimensions: Flexible Application (FA) and Student Centered Instruction (SCI). The FA dimension describes how a teacher invokes, applies and modifies her instructional repertoire in a given teaching context. The SCI dimension describes how a teacher conceives of a given situation as an opportunity for active engagement with the students. The Flexible Application of Student-Centered Instruction (FASCI) instrument was designed to measure science and mathematics teachers' SK by eliciting open-ended responses to scenario-based items. This study focuses on the effect of embedding specific science content into these scenario-based items. It was found that adding content did have an effect on FASCI responses and scores. The difference appears to be due to the elicitation of construct irrelevant responses, rather than due to the accessing of a more sophisticated SK as was hypothesized. Implications for the difficulty of defining and measuring teacher knowledge constructs are discussed.
Keywords
Teacher knowledge,
measurement,
validity,
reliability
Publication Date
October 17, 2011
Citation Information
Robert Talbot. "Embedding Content into and Instrument Designed to Measure Novice Science and Mathematics Teachers' Strategic Knowledge: A Challenge for Validity"
Proceedings of the International Conference on Mathematics, Science, and Technology Education.
(2011)
Available at: http://works.bepress.com/robert-talbot/6/