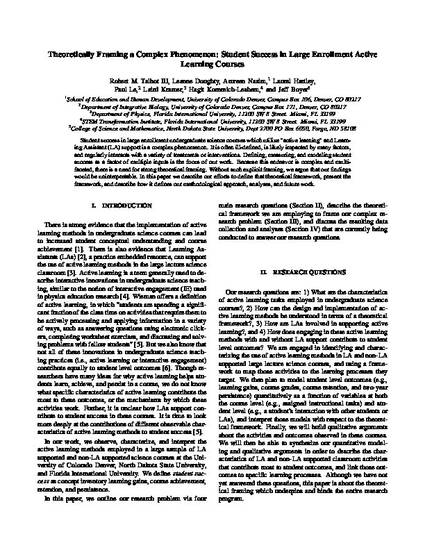 Article
Theoretically Framing a Complex Phenomenon: Student Success in Large Enrollment Active Learning Courses.pdf
Physics Education Research Conference Proceedings (2016)
Abstract
Student success in large enrollment undergraduate science courses which utilize "active learning" and Learning
Assistant (LA) support is a complex phenomenon. It is often ill-defined, is likely impacted by many factors,
and regularly interacts with a variety of treatments or interventions. Defining, measuring, and modeling student
success as a factor of multiple inputs is the focus of our work. Because this endeavor is complex and multifaceted,
there is a need for strong theoretical framing. Without such explicit framing, we argue that our findings
would be uninterpretable. In this paper we describe our efforts to define that theoretical framework, present the
framework, and describe how it defines our methodological approach, analyses, and future work.
Publication Date
December 29, 2016
DOI
http://dx.doi.org/10.1119/perc.2016.pr.081
Citation Information
Robert Talbot, Leanne Doughty, Amreen Nasim, Laurel Hartley, et al.. "Theoretically Framing a Complex Phenomenon: Student Success in Large Enrollment Active Learning Courses.pdf"
Physics Education Research Conference Proceedings
(2016) p. 344 - 347 ISSN: 2377-2379
Available at: http://works.bepress.com/robert-talbot/12/