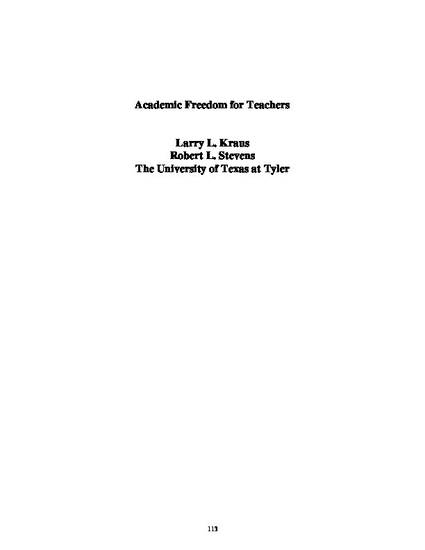 Article
Academic Freedom for Teachers
Education Faculty Publications and Presentations
Abstract
The concept of academic freedom is a basic right, if not a Constitutional right, of educators in the classroom and in research. While freedom in research and teaching has traditionally been assumed to be more in the realm of higher education, the ability to make reasonable decisions related to presentation of academic content has been accepted at the K-12 levels as a basic responsibility of instruction.
Description
This article was originally published in the National Social Science Proceedings, licensed under a Creative Commons 3.0 Unported License: https://creativecommons.org/licenses/by/3.0/deed.en_US
Publisher
National Social Science Association
Date of publication
3-1-2012
Persistent identifier
http://hdl.handle.net/10950/614
Publisher Citation
Kraus, Larry L. and Robert L. Stevens. Academic Freedom for Teachers, National Social Science Association National Conference, Las Vegas, NV. April 1-4, 2012.
Citation Information
Larry L. Kraus and Robert L. Stevens. "Academic Freedom for Teachers" (2012)
Available at: http://works.bepress.com/robert-stevens/15/