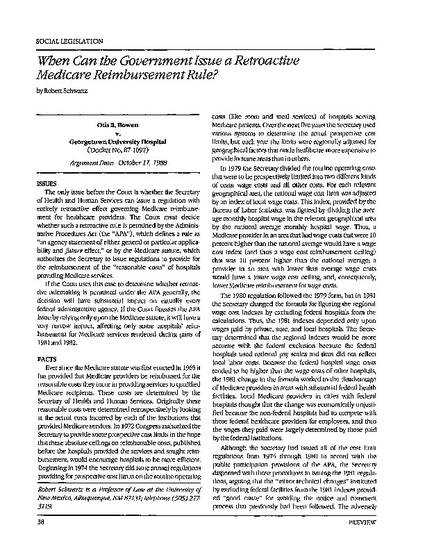 Article
When Can the Government Issue a Retroactive Medicare Reimbursement Rule? A Preview of Bowen v. Georgetown University Hospital
Preview of United States Supreme Court Cases
Publication Date
1-1-1988
Abstract
The only issue before the Court is whether the Secretary of Health and Human Services can issue a regulation with entirely retroactive effect governing Medicare reimbursement for healthcare providers. The Court must decide whether such a retroactive rule is permitted by the Administrative Procedures Act (the "APA"), which defines a rule as "an agency statement of either general or particular applicability and future effect," or by the Medicare statute, which authorizes the Secretary to issue regulations to provide for the reimbursement of the "reasonable costs" of hospitals providing Medicare services.
Keywords
Medicare,
Secretary of Health and Human Services,
Reimbursement
Citation Information
Robert Schwartz. "When Can the Government Issue a Retroactive Medicare Reimbursement Rule? A Preview of Bowen v. Georgetown University Hospital"
Preview of United States Supreme Court Cases
Vol. 1989 (1988) p. 38
Available at: http://works.bepress.com/robert-schwartz/32/