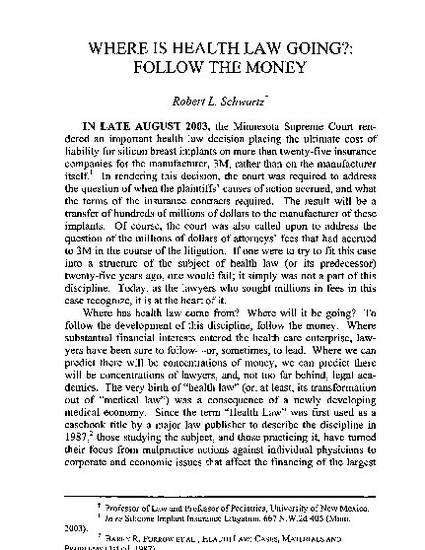 Article
Where Is Health Law Going?: Follow the Money
Health Matrix
Publication Date
1-1-2004
Abstract
Where has health law come from? Where will it be going? To follow the development of this discipline, follow the money. Where substantial financial interests entered the health care enterprise, lawyers have been sure to follow--or, sometimes, to lead. Where we can predict there will be concentrations of money, we can predict there will be concentrations of lawyers, and, not too far behind, legal academics. The very birth of "health law" (or, at least, its transformation out of "medical law") was a consequence of a newly developing medical economy. Since the term "Health Law" was first used as a casebook title by a major law publisher to describe the discipline in 1987, those studying the subject, and those practicing it, have turned their focus from malpractice actions against individual physicians to corporate and economic issues that affect the financing of the largest industry in the country. A boutique subject that was an outgrowth of tort law (with a nod toward charity law) has become a mainstream subject with its underlying legal principles found in the law of corporate finance (with a nod to the law of fraud). Attention to the obligation of not-for-profit board members has given way to attention to not-for-profit conversions to for-profit entities. The amount of money invested in this "industry" has grown substantially, and, as we might expect, so has the interest of lawyers.
Citation Information
Robert Schwartz. "Where Is Health Law Going?: Follow the Money"
Health Matrix
Vol. 14 (2004) p. 219
Available at: http://works.bepress.com/robert-schwartz/28/