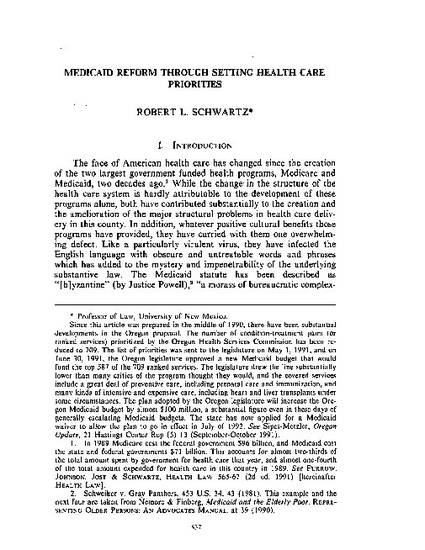 Article
Medicaid Reform through Setting Health Care Priorities
Saint Louis University Law Journal
Publication Date
1-1-1991
Abstract
This brief paper will describe the way Oregon proposes to modify its Medicaid program through prioritization (i.e., setting treatment priorities). It will then discuss the effect the proposal will have on those who depend upon Medicaid for health care and the effect the proposal will have on our national debate over our health care system. This paper will also list the legal arguments that are likely to be raised against the Oregon proposal, and then review the more important policy argument against the proposal. Finally, this paper will suggest that the real problem with the proposed Oregon system is not that it is unfair to poor people, women, minorities, or others, but that any priority list that generalizes from condition-treatment pairs necessarily overgeneralizes, that the range of cost-utility ratios for any condition-treatment pair varies so widely that the application of a state formula is bound to fail, and that the nature of an appropriate doctor-patient relationship requires that the doctor treat a flesh and blood patient, not some cardboard cutout "average" patient with the same condition. The solution to these problems, however, is not to abandon the setting of treatment priorities. Instead, the solution is to evaluate conditions and treatments in terms of the more general goals of medicine, and, then, with much less categorization, to set priorities so that those goals can be best achieved.
Keywords
Medicaid,
setting treatment priorities
Citation Information
Robert Schwartz. "Medicaid Reform through Setting Health Care Priorities"
Saint Louis University Law Journal
Vol. 35 (1991) p. 837
Available at: http://works.bepress.com/robert-schwartz/16/