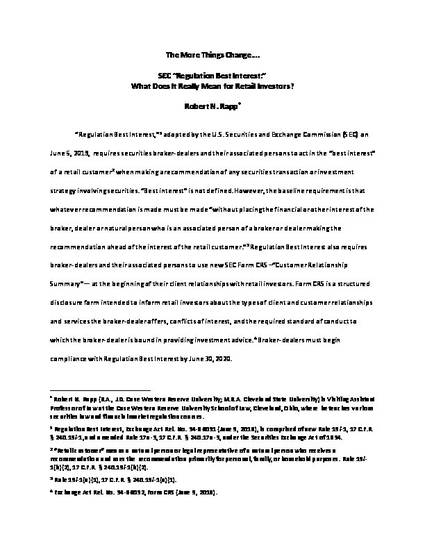 Unpublished Paper
The More Things Change.... SEC "Regulation Best Interest:" What Does it Really Mean for Retail Investors?
(2019)
Abstract
"Regulation Best Interest," adopted by the U.S. Securities and Exchange Commission (SEC) on June 5, 2019, requires securities broker-dealers and their associated persons to act in the "best interest" of a retail customer when making a recommendation of any securities transaction or investment strategy involving securities. "Best Interest" is not defined. However, the baseline requirement is that whatever recommendation is made must be made "without placing the financial or other interest of the broker-dealer or associated person making the recommendation ahead of the interest of the retail customer. The genesis of Regulation Best Interest is the longstanding dichotomy between the "fiduciary" standard of conduct recognized for SEC registered investment advisers and the lesser "suitability" standard for broker-dealers when they both render personalized investment advice to retail customers. Although the SEC characterized Regulation Best Interest as changing the broker-dealer standard of conduct to enhance it beyond the existing suitability obligation, Regulation Best Interest
contains no definition of "best interest." It does not create any unified standard of conduct applicable to broker-dealers and investment advisers, and the SEC expressly rejected adoption of a "fiduciary" standard. In the end, and in historic context, it may be the more things have purportedly changed, the more they really have stayed the same.
Publication Date
Summer August 1, 2019
Citation Information
Robert Neil Rapp. "The More Things Change.... SEC "Regulation Best Interest:" What Does it Really Mean for Retail Investors?" (2019)
Available at: http://works.bepress.com/robert-rapp/1/