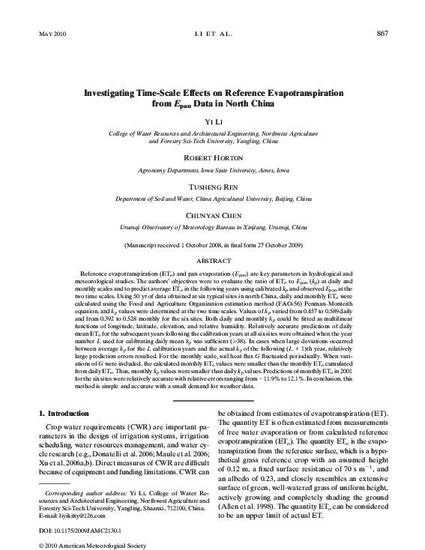 Article
Investigating Time-Scale Effects on Reference Evapotranspiration from Epan Data in North China
Journal of Applied Meteorology and Climatology
Publication Version
Published Version
Publication Date
5-1-2010
DOI
10.1175/2009JAMC2130.1
Abstract
Reference evapotranspiration (ETo) and pan evaporation (Epan) are key parameters in hydrological and meteorological studies. The authors' objectives were to evaluate the ratio of ETo to Epan (kp) at daily and monthly scales and to predict average ETo in the following years using calibrated kp and observed Epan at the two time scales. Using 50 yr of data obtained at six typical sites in north China, daily and monthly ETo were calculated using the Food and Agriculture Organization estimation method (FAO-56) Penman–Monteith equation, and kp values were determined at the two time scales. Values of kp varied from 0.457 to 0.589 daily and from 0.392 to 0.528 monthly for the six sites. Both daily and monthly kpcould be fitted as multilinear functions of longitude, latitude, elevation, and relative humidity. Relatively accurate predictions of daily mean ETo for the subsequent years following the calibration years at all six sites were obtained when the year number L used for calibrating daily mean kp was sufficient (>38). In cases when large deviations occurred between average kp for the L calibration years and the actual kp of the following (L + 1)th year, relatively large prediction errors resulted. For the monthly scale, soil heat flux G fluctuated periodically. When variations of G were included, the calculated monthly ETo values were smaller than the monthly ETo cumulated from daily ETo. Thus, monthly kp values were smaller than daily kp values. Predictions of monthly ETo in 2001 for the six sites were relatively accurate with relative errors ranging from −11.9% to 12.1%. In conclusion, this method is simple and accurate with a small demand for weather data.
Rights
© Copyright 2010 American Meteorological Society (AMS). Permission to use figures, tables, and brief excerpts from this work in scientific and educational works is hereby granted provided that the source is acknowledged. Any use of material in this work that is determined to be "fair use" under Section 107 of the U.S. Copyright Act or that satisfies the conditions specified in Section 108 of the U.S. Copyright Act (17 USC §108) does not require the AMS's permission. Republication, systematic reproduction, posting in electronic form, such as on a website or in a searchable database, or other uses of this material, except as exempted by the above statement, requires written permission or a license from the AMS. All AMS journals and monograph publications are registered with the Copyright Clearance Center (http://www.copyright.com). Questions about permission to use materials for which AMS holds the copyright can also be directed to the AMS Permissions Officer at permissions@ametsoc.org. Additional details are provided in the AMS Copyright Policy statement, available on the AMS website (http://www.ametsoc.org/CopyrightInformation).
Copyright Owner
American Meteorological Society
File Format
application/pdf
Citation Information
Yi Li, Robert Horton, Tusheng Ren and Chunyan Chen. "Investigating Time-Scale Effects on Reference Evapotranspiration from Epan Data in North China"
Journal of Applied Meteorology and Climatology
Vol. 49 Iss. 5 (2010) p. 867 - 878
Available at: http://works.bepress.com/robert-horton/81/