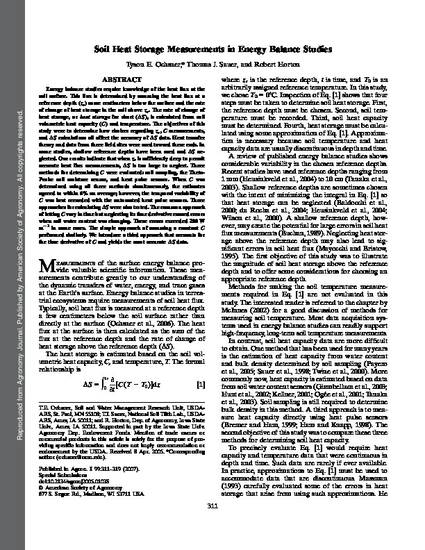 Article
Soil Heat Storage Measurements in Energy Balance Studies
Agronomy Journal
Publication Version
Published Version
Publication Date
1-1-2007
DOI
10.2134/agronj2005.0103S
Abstract
Energy balance studies require knowledge of the heat flux at the soil surface. This flux is determined by summing the heat flux at a reference depth (z r) some centimeters below the surface and the rate of change of heat storage in the soil above z r The rate of change of heat storage, or heat storage for short (ΔS), is calculated from soil volumetric heat capacity (C) and temperature. The objectives of this study were to determine how choices regarding z r, Cmeasurements, and ΔS calculations all affect the accuracy of ΔS data. Heat transfer theory and data from three field sites were used toward these ends. In some studies, shallow reference depths have been used and ΔS neglected. Our results indicate that when z r is sufficiently deep to permit accurate heat flux measurements, ΔS is too large to neglect. Three methods for determining C were evaluated: soil sampling, the ThetaProbe soil moisture sensor, and heat pulse sensors. When C was determined using all three methods simultaneously, the estimates agreed to within 6% on average; however, the temporal variability of C was best recorded with the automated heat pulse sensors. Three approaches for calculating ΔS were also tested. The common approach of letting C vary in time but neglecting its time derivative caused errors when soil water content was changing. These errors exceeded 200 W m−2 in some cases. The simple approach of assuming a constant Cperformed similarly. We introduce a third approach that accounts for the time derivative of Cand yields the most accurate ΔS data.
Rights
Works produced by employees of the U.S. Government as part of their official duties are not copyrighted within the U.S. The content of this document is not copyrighted.
File Format
application/pdf
Citation Information
Tyson E. Ochsner, Thomas J. Sauer and Robert Horton. "Soil Heat Storage Measurements in Energy Balance Studies"
Agronomy Journal
Vol. 99 Iss. 1 (2007) p. 311 - 319
Available at: http://works.bepress.com/robert-horton/74/