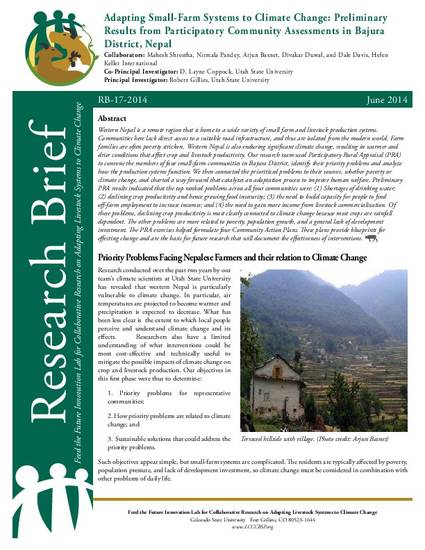 Article
Adapting Small-Farm Systems to Climate Change: Preliminary Results from Participatory Community Assessments in Bajura District, Nepal
Research Brief
Publisher
Colorado State University
Publication Date
6-1-2014
Abstract
Western Nepal is a remote region that is home to a wide variety of small farm and livestock production systems. Communities here lack direct access to a suitable road infrastructure, and thus are isolated from the modern world. Farm families are often poverty stricken. Western Nepal is also enduring significant climate change, resulting in warmer and drier conditions that affect crop and livestock productivity. Our research team used Participatory Rural Appraisal (PRA) to convene the members of four small-farm communities in Bajura District, identify their priority problems and analyze how the production systems function. We then connected the prioritized problems to their sources, whether poverty or climate change, and charted a way forward that catalyzes an adaptation process to improve human welfare. Preliminary PRA results indicated that the top ranked problems across all four communities were: (1) Shortages of drinking water; (2) declining crop productivity and hence growing food insecurity; (3) the need to build capacity for people to find off-farm employment to increase incomes; and (4) the need to gain more income from livestock commercialization. Of these problems, declining crop productivity is most clearly connected to climate change because most crops are rainfall dependent. The other problems are more related to poverty, population growth, and a general lack of development investment. The PRA exercises helped formulate four Community Action Plans. These plans provide blueprints for effecting change and are the basis for future research that will document the effectiveness of interventions.
Citation Information
D. Layne Coppock, Mahesh Shrestha, Nirmala Pandey, Arjun Basnet, et al.. "Adapting Small-Farm Systems to Climate Change: Preliminary Results from Participatory Community Assessments in Bajura District, Nepal"
Research Brief
Vol. RB-17-2014 (2014)
Available at: http://works.bepress.com/robert-gillies/12/