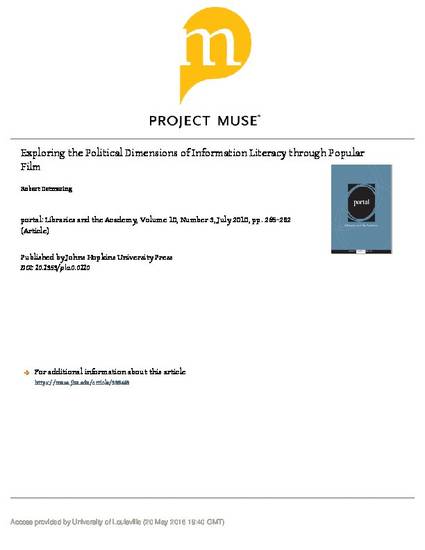 Article
Exploring the political dimensions of information literacy through popular film.
Faculty Scholarship
Publication Date
7-1-2010
Abstract
Certain popular films contextualize the access, use, and interpretation of information within a political and social framework. As a result, these films function as alternative pedagogical sites for analysis and critique, facilitating critical thinking about information beyond the library and the classroom, and leading students to a deeper understanding of the fundamental need for information literacy. A conceptual basis for the consideration of film in politically engaged information literacy instruction is provided, supported by a discussion of three relevant films: Jason Reitman's Thank You for Smoking (2006), Joel and Ethan Coen's Burn after Reading (2008), and Oliver Stone's W. (2008).
Citation Information
This article was originally published in Portal: Libraries and the Academy, volume 10, issue 3, in 2010.