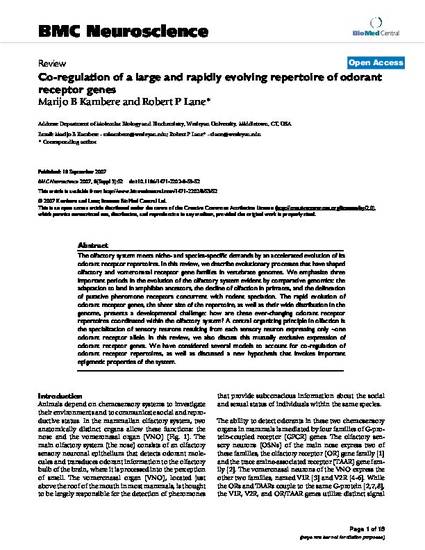 Article
Co-regulation of a Large and Rapidly Evolving Repertoire of Odorant Receptor Genes
BMC Neuroscience
Publication Date
9-18-2007
Abstract
The olfactory system meets niche- and species-specific demands by an accelerated evolution of its odorant receptor repertoires. In this review, we describe evolutionary processes that have shaped olfactory and vomeronasal receptor gene families in vertebrate genomes. We emphasize three important periods in the evolution of the olfactory system evident by comparative genomics: the adaptation to land in amphibian ancestors, the decline of olfaction in primates, and the delineation of putative pheromone receptors concurrent with rodent speciation. The rapid evolution of odorant receptor genes, the sheer size of the repertoire, as well as their wide distribution in the genome, presents a developmental challenge: how are these ever-changing odorant receptor repertoires coordinated within the olfactory system? A central organizing principle in olfaction is the specialization of sensory neurons resulting from each sensory neuron expressing only ~one odorant receptor allele. In this review, we also discuss this mutually exclusive expression of odorant receptor genes. We have considered several models to account for co-regulation of odorant receptor repertoires, as well as discussed a new hypothesis that invokes important epigenetic properties of the system.
Citation Information
Robert P. Lane. "Co-regulation of a Large and Rapidly Evolving Repertoire of Odorant Receptor Genes"
BMC Neuroscience
(2007)
Available at: http://works.bepress.com/rlane/10/