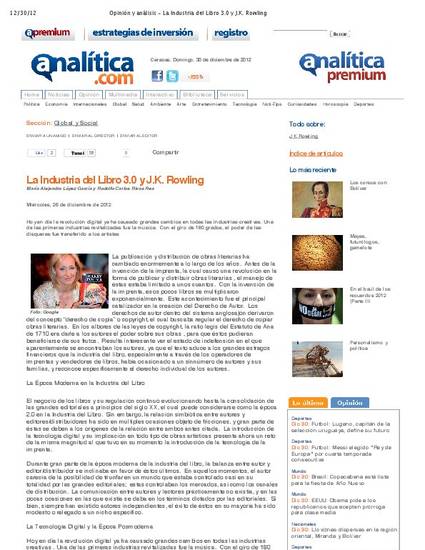 Article
La Industria del Libro 3.0 y J.K. Rowling
analitica.com (2012)
Abstract
The authors provide a brief overview of what could be called the 3.0 version of the book industry. Under the 3.0 book industry, the author's role in exploiting their creations has to embrace new and creative business models, which may often come into conflict with publisher's old business models. In the article, the authors take a look at the innovative business models implemented by J.K. Rowling, Stephen King, Radiohead and Frank Ocean amongst others. ///////////////////////////////////////////////////////////////////////////////////////////////////// Los autores proporcionan una breve descripción de lo que podría llamarse la versión 3.0 de la industria del libro. En la industria del libro 3.0, el papel del autor en la explotación de sus creaciones tiene que adoptar nuevos y creativos modelos, los cuales a menudo pueden entrar en conflicto con los antiguos modelos de negocio de las grandes casas editoriales. En el artículo, los autores echan un vistazo a los modelos de negocio innovadores implementados por J.K. Rowling.
Keywords
J.K. Rowling,
Harry Potter,
publishing,
copyright,
Frank Ocean,
Stepehen King,
licensing,
e-books
Publication Date
Winter December 26, 2012
Citation Information
Rodolfo C Rivas Rea and Maria Alejandra Lopez Garcia. "La Industria del Libro 3.0 y J.K. Rowling"
analitica.com
(2012)
Available at: http://works.bepress.com/rivas_rodolfo/12/