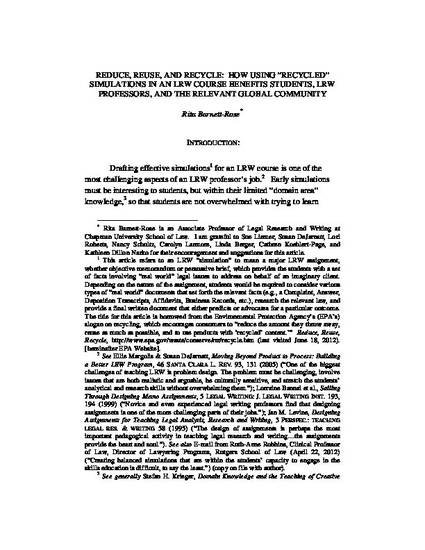 Article
Reduce, Reuse, and Recycle: How Using "Recycled" Simulations in an LRW Course Benefits Students, LRW Professors, and the Relevant Global Community
University of Dayton Law Review (2012)
Abstract
Unlike theory-based first year doctrinal courses, an LRW course typically teaches law students how to think, analyze, research, and write like lawyers through the use of real-world "simulations." Drafting these simulations is one of most challenging and time-consuming aspects of an LRW professor's job. Yet, despite the effort involved in both creating and teaching new simulations, controversy continues within the legal academy about whether reusing simulations is appropriate – or is simply an invitation for students to cheat. This article is the first to address head-on the ongoing debate over "recycling" LRW simulations, and describes not only how concerns over student cheating can be effectively addressed, but also how recycling simulations in an LRW course is a win-win-win for all relevant stakeholders. Using the analogous concepts behind traditional recycling as a guide, this article describes the benefits to students, LRW professors, and the greater legal community that could be realized by the deliberate use of recycled simulations. First, this article shows how using recycled simulations in an LRW course results in greater student learning and measurably better student work product. Second, this article describes how using recycled simulations contributes to the professional development of an LRW professor. Finally, in light of recent proposed changes to ABA law school accreditation standards, which may soon require law schools to engage in institutional assessment of student learning outcomes, this article describes how using recycled simulations in particular can help an LRW professor begin a more effective and reliable formal assessment of critical student learning within the LRW course. Beginning this type of assessment in a first year LRW course would be particularly beneficial to numerous stakeholders because it would allow an institution to determine, early on, what programmatic changes must be made in order to ensure that its students attain competency in these necessary real-world skills by graduation.
Keywords
legal writing,
assessment,
Carnegie,
LRW programs,
student learning outcomes
Publication Date
Fall 2012
Citation Information
Rita F. Barnett,
Reduce, Reuse, and Recycle: How Using "Recycled" Simulations in an LRW Course Benefits Students, LRW Professors, and the Relevant Global Community
, 38
U. Dayton L. Rev.
1 (2012). Available at: http://works.bepress.com/rita_barnett/1