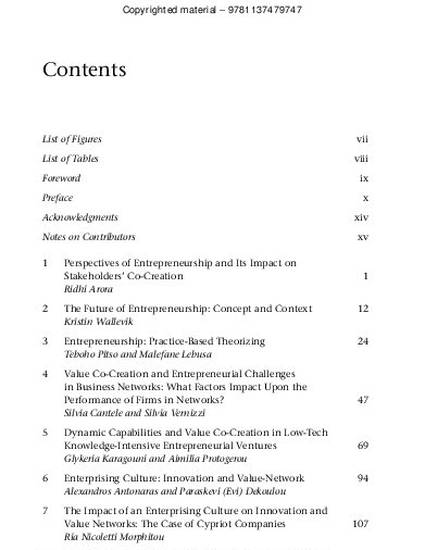 Contribution to Book
Perspectives of Entrepreneurship and Its Impact on Stakeholders' Co-Creation
Entrepreneurial Challenges in the 21st Century Creating Stakeholder Value Co-Creation (2015)
Abstract
In the past decade, the topic of entrepreneurship has undergone a lot of scholarly examination by academics and management practitioners (Naudé, 2013). Entrepreneurship aims to bring about the cohesive integration of social, economic, institutional, and cultural environments, both at the individual level and the group level. The entrepreneurship concept has been built on the strong historical roots that have led to advancements in entrepreneurial research and its related areas. This chapter provides coverage of the various theoretical perspectives underlying the origin and evolution of entrepreneurship. As the concept of entrepreneurship represents a "multifaceted phenomenon" (Toma et al., 2014), I will explain in this chapter the various definitions of "entrepreneur" and "entrepreneurship". Further, I will integrate the various theoretical perspectives that form the strong roots for development in the field of entrepreneurship based on the work of eminent scholars. I will also highlight the role and significance of various entrepreneurial perspectives in influencing stakeholder co-creation. For example, the role of entrepreneurial activities has been recognized in economic growth and development. Besides this, entrepreneurship also provides opportunities for a company or a firm to take on a start-up project to foster creativity and innovation which further helps in value co-creation. Entrepreneurial behavior also inculcates risk-taking behaviors for managing the uncertainties of the labor market. Similarly, entrepreneurship may also entail projects that utilize applications for a specific technology, the launch of new ventures, the introduction of new applications, and the exploiting of opportunities that rely on scientific and technical knowledge.
Keywords
Entrepreneurial perspectives; behavior; change management; stakeholder co-creation
Publication Date
Fall October 28, 2015
Editor
Hans Kaufmann, S M Riad Shams
Publisher
Palgrave Macmillan
Citation Information
Ridhi Arora. "Perspectives of Entrepreneurship and Its Impact on Stakeholders' Co-Creation"
Entrepreneurial Challenges in the 21st Century Creating Stakeholder Value Co-Creation
(2015)
Available at: http://works.bepress.com/ridhi_arora/6/