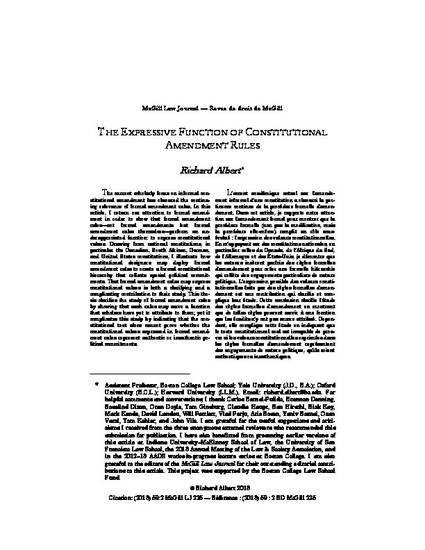 Article
The Expressive Function of Constitutional Amendment Rules
McGill Law Journal (2013)
Abstract
The current scholarly focus on informal amendment has obscured the continuing relevance of formal amendment rules. In this Article, I return our attention to formal amendment in order to show that formal amendment rules – not formal amendments but formal amendment rules themselves – perform an underappreciated function: to express constitutional values. Drawing from national constitutions, in particular the Canadian, South African, German and United States Constitutions, I illustrate how constitutional designers may deploy formal amendment rules to create a formal constitutional hierarchy that reflects special political commitments. That formal amendment rules may express constitutional values is both a clarifying and complicating contribution to the study of formal amendment rules. It clarifies the study of formal amendment rules by showing that formal amendment rules may serve a function that scholars have yet to attribute to them. Yet it complicates the study of formal amendment rules by showing that the constitutional text alone cannot prove whether the constitutional values expressed in formal amendment rules represent authentic or inauthentic political commitments.
Publication Date
July 20, 2013
Citation Information
Richard Albert. "The Expressive Function of Constitutional Amendment Rules"
McGill Law Journal
Vol. 59 Iss. 2 (2013)
Available at: http://works.bepress.com/richardalbert/38/