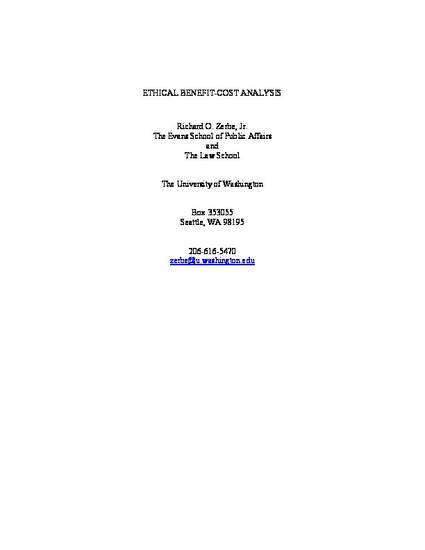 Unpublished Paper
Ethical Benefit-Cost Analysis
ExpressO (2007)
Abstract
Recent criticisms of benefit-cost analysis (BCA) by Ackerman and Heinzerling and others have received considerable notoriety. However, their arguments are theoretically and empirically insufficient to assess its usefulness. Their claim that BCA is based on an undesirable ethical foundation echoes many of the long-standing criticisms of BCA that are now arising to somewhat of a crescendo. The ethical criticisms necessarily fail, as they do not reflect a considered understanding of the ethical foundations of BCA and their empirical criticisms fail due to the lack of evidence.
The foundations of BCA are ethical and legal. This understanding provides a fully realized foundation for BCA. It creates a distinction between an approach based on such a foundation, which I refer to the as ethical benefit cost-analysis (ethical-BCA) and the sort of BCA addressed by its critics. Such a foundation rests on legal rights and amends the failure of BCA to include ethical considerations, a shortcoming that resulted historically from the attempt to avoid interpersonal comparisons of utility. This amended legal foundation largely vitiates the extreme positions that have come to dominate thinking about BCA.
In this paper I reclaim the difficult middle ground by showing the logical connection between BCA and its foundations. To this end, I explicate the history of BCA and its underlying economic theory. First I show how ethical deficiencies in BCA arose from its history and define a "mainstream" version of the dominant Kaldor-Hicks (KH) approach to BCA. I then introduce the concept of a fully realized BCA under the rubric of ethical BCA. As a matter of convenience, I treat ethical BCA as a better-defined subcategory of BCA. The purpose here is to show that the legal foundation for ethical BCA tends to ameliorate or eliminate the criticisms of BCA. Finally I consider empirical analyses of BCA and the extent to which ethical BCA is becoming the preferred choice.
Publication Date
June, 2007
Citation Information
Richard O Zerbe. "Ethical Benefit-Cost Analysis"
ExpressO
(2007)
Available at: http://works.bepress.com/richard_zerbe/3/