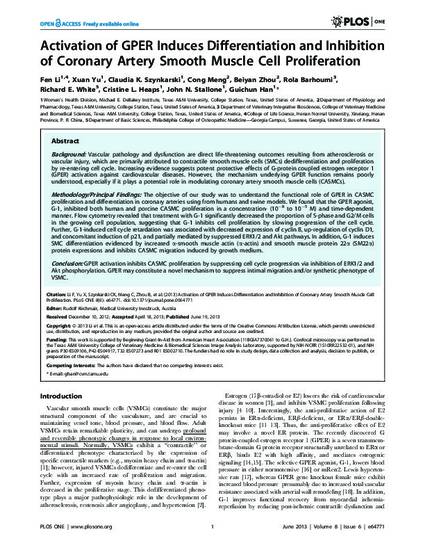 Article
Activation of GPER Induces Differentiation and Inhibition of Coronary Artery Smooth Muscle Cell Proliferation
PLoS ONE
Publication Date
1-1-2013
Abstract
Background:Vascular pathology and dysfunction are direct life-threatening outcomes resulting from atherosclerosis or vascular injury, which are primarily attributed to contractile smooth muscle cells (SMCs) dedifferentiation and proliferation by re-entering cell cycle. Increasing evidence suggests potent protective effects of G-protein coupled estrogen receptor 1 (GPER) activation against cardiovascular diseases. However, the mechanism underlying GPER function remains poorly understood, especially if it plays a potential role in modulating coronary artery smooth muscle cells (CASMCs).Methodology/Principal Findings:The objective of our study was to understand the functional role of GPER in CASMC proliferation and differentiation in coronary arteries using from humans and swine models. We found that the GPER agonist, G-1, inhibited both human and porcine CASMC proliferation in a concentration- (10-8 to 10-5 M) and time-dependent manner. Flow cytometry revealed that treatment with G-1 significantly decreased the proportion of S-phase and G2/M cells in the growing cell population, suggesting that G-1 inhibits cell proliferation by slowing progression of the cell cycle. Further, G-1-induced cell cycle retardation was associated with decreased expression of cyclin B, up-regulation of cyclin D1, and concomitant induction of p21, and partially mediated by suppressed ERK1/2 and Akt pathways. In addition, G-1 induces SMC differentiation evidenced by increased a-smooth muscle actin (a-actin) and smooth muscle protein 22a (SM22a) protein expressions and inhibits CASMC migration induced by growth medium.Conclusion:GPER activation inhibits CASMC proliferation by suppressing cell cycle progression via inhibition of ERK1/2 and Akt phosphorylation. GPER may constitute a novel mechanism to suppress intimal migration and/or synthetic phenotype of VSMC. © 2013 Li et al.
Citation Information
F. Li, X. Yu, C. K. Szynarski, C. Meng, et al.. "Activation of GPER Induces Differentiation and Inhibition of Coronary Artery Smooth Muscle Cell Proliferation"
PLoS ONE
Vol. 8 Iss. 6 (2013)
Available at: http://works.bepress.com/richard_white/17/