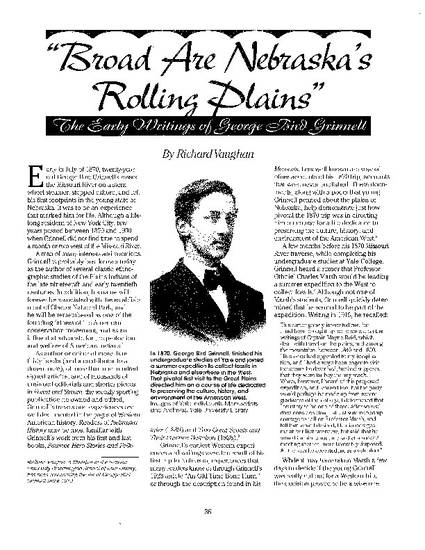 Article
Broad Are Nebraska's Rolling Plains: The Early Writings of George Bird Grinnell
83 Nebraska History 36 (2002)
Publication Date
1-1-2002
Abstract
Profiles the life of writer George Bird Grinnell (1849-1938) and the influence his first trip to Nebraska had in shaping his early writings about the American West. Among the works he published were several groundbreaking books about the Plains Indians of the late 19th and early 20th centuries. Not only did this 1870 trip to Nebraska, as a member of O. C. Marsh's first Yale Paleontological Expedition, influence Grinnell's scholarly endeavors, but his deep interest in the state also influenced his lifelong devotion to environmental preservation and established him as an important advocate for the protection and welfare of Native Americans.
Citation Information
Richard Vaughan. "Broad Are Nebraska's Rolling Plains: The Early Writings of George Bird Grinnell"
83 Nebraska History 36 (2002)
(2002)
Available at: http://works.bepress.com/richard_vaughan/1/