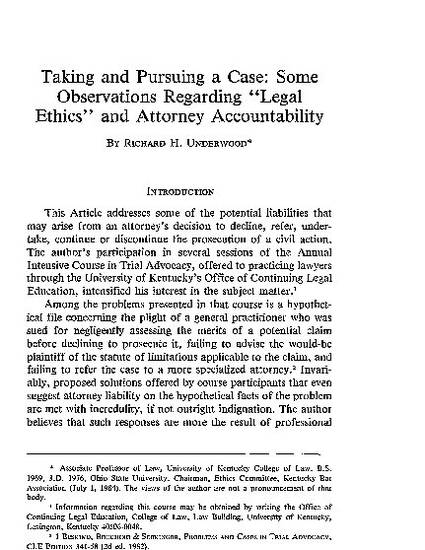 Article
Taking and Pursuing a Case: Some Observations Regarding "Legal Ethics" and Attorney Accountability
Law Faculty Scholarly Articles
Abstract
This Article addresses some of the potential liabilities that may arise from an attorney's decision to decline, refer, undertake, continue or discontinue the prosecution of a civil action. This Article suggests that counsel's obligations to his or her client, adversary, and fellow members of the bar, as well as to the judiciary and the justice system, can be balanced without subjecting attorneys to liability. This balance can be attained, however, only if potential problems are spotted and minimal precautions are taken.
Publication Date
1-1-1985
Citation Information
Richard H. Underwood,
Taking and Pursuing a Case: Some Observations Regarding "Legal Ethics" and Attorney Accountability
, 74 Ky. L.J. 173 (1985).