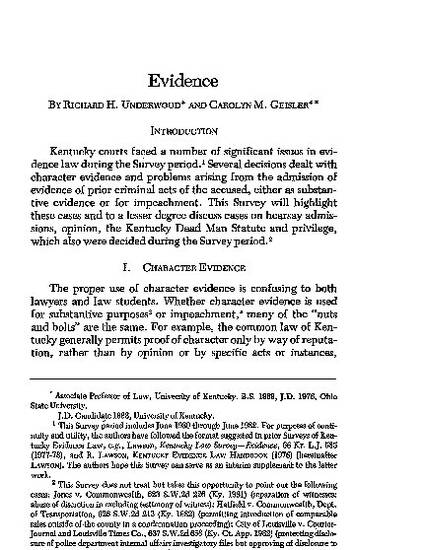 Article
Kentucky Law Survey: Evidence
Law Faculty Scholarly Articles
Abstract
Kentucky courts faced a number of significant issues in evidence law during the Survey period. Several decisions dealt with character evidence and problems arising from the admission of evidence of prior criminal acts of the accused, either as substantive evidence or for impeachment. This Survey will highlight these cases and to a lesser degree discuss cases on hearsay admissions, opinion, the Kentucky Dead Man Statute and privilege, which also were decided during the Survey period.
Publication Date
1-1-1983
Citation Information
Richard H. Underwood & Carolyn M. Geisler, Kentucky Law Survey,
Evidence
, 71 Ky. L.J. 287 (1983).