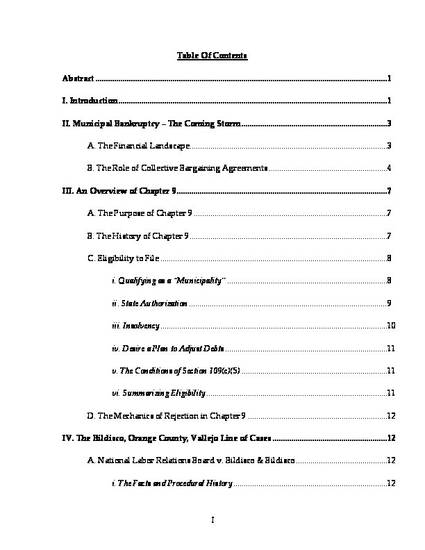 Unpublished Paper
Running On Empty: Municipal Insolvency and Rejection of Collective Bargaining Agreements in Chapter 9 Bankruptcy
ExpressO (2011)
Abstract
Abstract: This article conducts an in-depth analysis of the facts and law surrounding the potential modification and rejection of collective bargaining agreements by municipal debtors in Chapter 9 bankruptcy. American municipal governments are in the midst of a widespread financial crisis. Many are facing enormous budget deficits in 2011 and beyond. As a result, the heretofore-unthinkable option of filing for bankruptcy protection pursuant to Chapter 9 of the Federal Bankruptcy Code is becoming increasingly viable. One of the most vital issues presented by this poorly understood chapter of the Bankruptcy Code is if and how would-be municipal debtors can modify and reject costly collective bargaining agreements with public employee labor unions. The article concludes that the current state of the law surrounding these issues creates an incentive for would-be debtors to resort to filing for Chapter 9 as a means of readjusting their otherwise unsustainable public labor obligations.
Keywords
Bankruptcy,
Chapter 9,
Municipal,
Rejection,
Collective Bargaining
Publication Date
April 8, 2011
Citation Information
Richard W. Trotter. "Running On Empty: Municipal Insolvency and Rejection of Collective Bargaining Agreements in Chapter 9 Bankruptcy"
ExpressO
(2011)
Available at: http://works.bepress.com/richard_trotter/1/