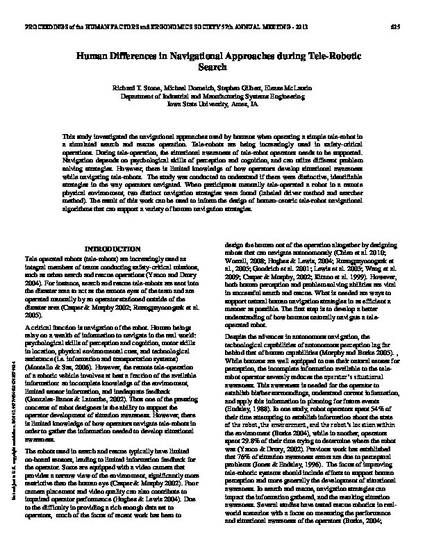 Presentation
Human Differences in Navigational Approaches during Tele-Robotic Search
Human Factors and Ergonomics Society Annual Meeting (2013)
Abstract
This study investigated the navigational approaches used by humans when operating a simple tele-robot in a simulated search and rescue operation. Tele-robots are being increasingly used in safety-critical operations. During tele-operation, the situational awareness of tele-robot operators needs to be supported. Navigation depends on psychological skills of perception and cognition, and can utlize different problem solving strategies. However, there is limited knowledge of how operators develop situational awareness while navigating tele-robots. The study was conducted to understand if there were distinctive, identifiable strategies in the way operators navigated. When participants manually tele-operated a robot in a remote physical environment, two distinct navigation strategies were found (labeled driver method and searcher method). The result of this work can be used to inform the design of human-centric tele-robot navigational algorithms that can support a variety of human navigation strategies.
Publication Date
September 30, 2013
DOI
10.1177/1541931213571134
Citation Information
Richard T. Stone, Michael Dorneich, Stephen B. Gilbert and Elease McLaurin. "Human Differences in Navigational Approaches during Tele-Robotic Search"
Human Factors and Ergonomics Society Annual Meeting
(2013)
Available at: http://works.bepress.com/richard_stone/5/