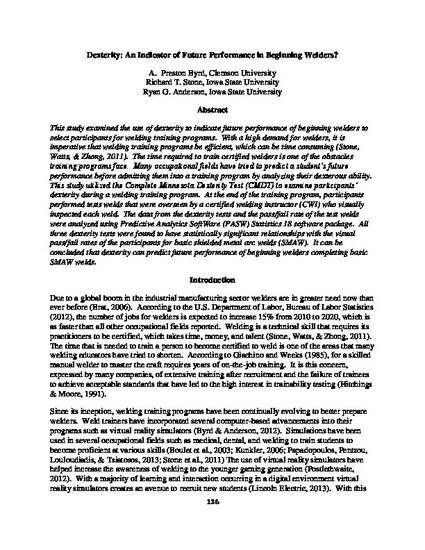 Presentation
Dexterity: An Indicator of Future Performance in Beginning Welders?
Industrial and Manufacturing Systems Engineering Conference Proceedings and Posters
Document Type
Conference Proceeding
Publication Version
Published Version
Publication Date
9-1-2014
Conference Title
Western Region American Association for Agricultural Education Conference
Conference Date
September 23-25, 2014
Geolocation
(19.639994, -155.9969261)
Abstract
This study examined the use of dexterity to indicate future performance of beginning welders to select participants for welding training programs. With a high demand for welders, it is imperative that welding training programs be efficient, which can be time consuming (Stone, Watts, & Zhong, 2011). The time required to train certified welders is one of the obstacles training programs face. Many occupational fields have tried to predict a student's future performance before admitting them into a training program by analyzing their dexterous ability. This study utilized the Complete Minnesota Dexterity Test (CMDT) to examine participants' dexterity during a welding training program. At the end of the training program, participants performed tests welds that were overseen by a certified welding instructor (CWI) who visually inspected each weld. The data from the dexterity tests and the pass/fail rate of the test welds were analyzed using Predictive Analytics SoftWare (PASW) Statistics 18 software package. All three dexterity tests were found to have statistically significant relationships with the visual pass/fail rates of the participants for basic shielded metal arc welds (SMAW). It can be concluded that dexterity can predict future performance of beginning welders completing basic SMAW welds.
Copyright Owner
The Authors
File Format
application/pdf
Citation Information
A. Preston Byrd, Richard Stone and Ryan G. Anderson. "Dexterity: An Indicator of Future Performance in Beginning Welders?" Kona, HI(2014) p. 136 - 148
Available at: http://works.bepress.com/richard_stone/13/