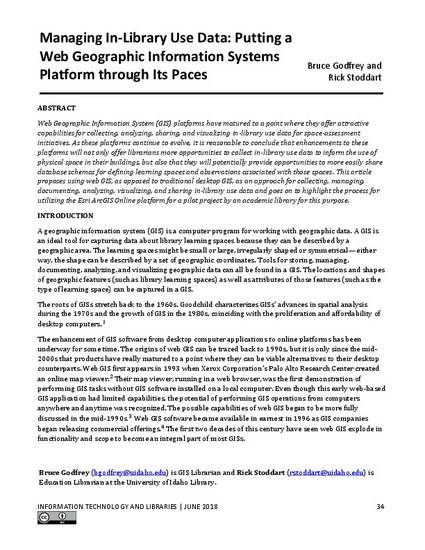 Article
Managing In-Library Use Data: Putting a Web Geographic Information Systems Platform through Its Paces
Information Technology and Libraries (2018)
Abstract
Web Geographic Information System (GIS) platforms have matured to a point where they offer attractive capabilities for collecting, analyzing, sharing, and visualizing in-library use data for space-assessment initiatives. As these platforms continue to evolve, it is reasonable to conclude that enhancements to these platforms will not only offer librarians more opportunities to collect in-library use data to inform the use of physical space in their buildings, but also that they will potentially provide opportunities to more easily share database schemas for defining learning spaces and observations associated with those spaces. This article proposes using web GIS, as opposed to traditional desktop GIS, as an approach for collecting, managing, documenting, analyzing, visualizing, and sharing in-library use data and goes on to highlight the process for utilizing the Esri ArcGIS Online platform for a pilot project by an academic library for this purpose. 
DOI
https://doi.org/10.6017/ital.v37i2.10208
Citation Information
Rick A Stoddart and Bruce Godfrey. "Managing In-Library Use Data: Putting a Web Geographic Information Systems Platform through Its Paces"
Information Technology and Libraries
Vol. 37 Iss. 2 (2018) p. 24 - 49 ISSN: 2163-5226
Available at: http://works.bepress.com/richard_stoddart/80/
Creative Commons license
This work is licensed under a Creative Commons CC_BY International License.