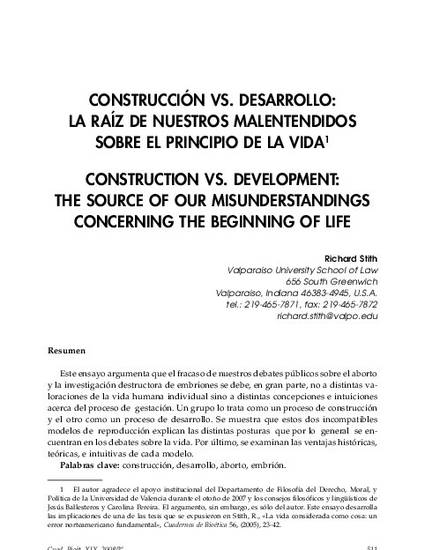 Article
Construccion vs. Desarrollo: La Raiz de Nuestros Malentendidos Sobre el Principio de la Vida
Cuadernos de Bioética
Publication Date
1-1-2008
Abstract
Este ensayo argumenta que el fracaso de nuestros debates públicos sobre el aborto y la investigación destructora de embriones se debe, en gran parte, no a distintas valoraciones de la vida humana individual sino a distintas concepciones e intuiciones acerca del proceso de gestación. Un grupo lo trata como un proceso de construcción y el otro como un proceso de desarrollo. Se muestra que estos dos incompatibles modelos de reproducción explican las distintas posturas que por lo general se encuentran en los debates sobre la vida. Por último, se examinan las ventajas históricas, teóricas, e intuitivas de cada modelo.
This essay argues that the failure of our public debates over abortion and embryo-destructive research is due, to a large extent, not to different valuations of individual human life but to different conceptions and intuitions concerning the process of gestation, one group treating the process as construction and another treating it as development. These two incompatible models of reproduction are shown to explain the various positions commonly encountered in these life-related debates. Finally, the historical, theoretical, and intuitive strengths of each model are examined.
Citation Information
Richard Stith,
Construccion vs. Desarrollo: La Raiz de Nuestros Malentendidos Sobre el Principio de la Vida
, 67 Cuadernos de Bioética 511 (2008).