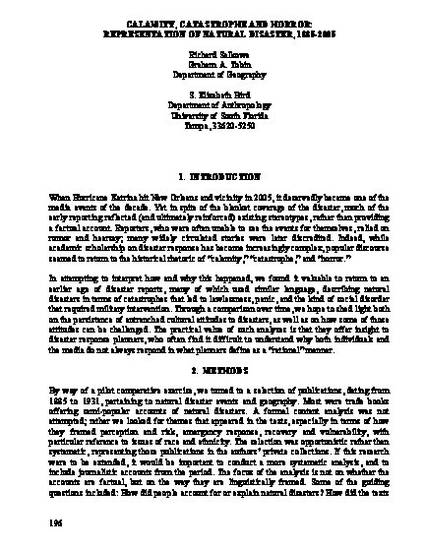 Article
Calamity, Catastrophe, and Horror: Representation of Natural Disaster, 1885-2005
Papers of the Applied Geography Conferences (2006)
Abstract
An examination of disaster literature from the late 19th and early 20th centuries revealed social, political, and economic vulnerability issues that parallel many current concerns. A modern model of comprehensive emergency management was used to comparatively address selected issues of vulnerability found in these texts; looking specifically at emergency response and initial recovery, perception, and attitudes towards different groups. Emergency response has made significant advances with the development of more sophisticated intervention protocols and the involvement of a vast array of governmental and non-governmental organizations. However, disasters remain deterministic and/or probabilistic in the eyes of many and recovery inevitably incorporates large structural measures; the technological fix. Moreover, while there is improvement in support for vulnerable groups, their depiction in the media often remains a major concern. The parallels with the aftermath of Hurricane Katrina are most apparent and provide yet more lessons for hazard mitigation.
Keywords
Natural hazards,
vulnerability,
historical perspective
Citation Information
Richard Steven Salkowe, Graham A Tobin and S Elizabeth Bird. "Calamity, Catastrophe, and Horror: Representation of Natural Disaster, 1885-2005"
Papers of the Applied Geography Conferences
Vol. 29 (2006)
Available at: http://works.bepress.com/richard_salkowe/3/