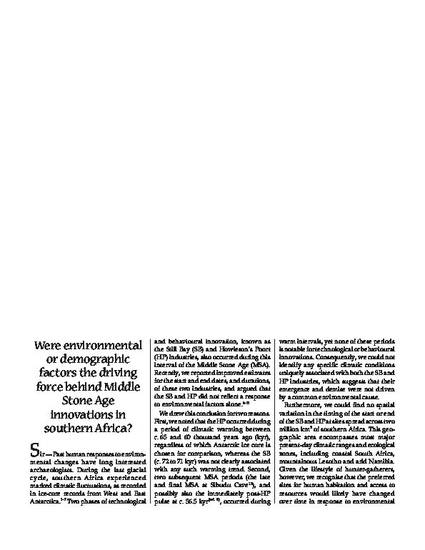 Article
Were environmental or demographic factors the driving force behind Middle Stone Age innovations in southern Africa?
Faculty of Science - Papers (Archive)
Publication Date
1-1-2009
Abstract
Sir—Past human responses to environmental changes have long interested archaeologists. During the last glacial cycle, southern Africa experienced marked climatic fluctuations, as recorded in ice-core records from West and East Antarctica.
Citation Information
Zenobia Jacobs and Richard G Roberts. "Were environmental or demographic factors the driving force behind Middle Stone Age innovations in southern Africa?" (2009) p. 333 - 334
Available at: http://works.bepress.com/richard_roberts/102/