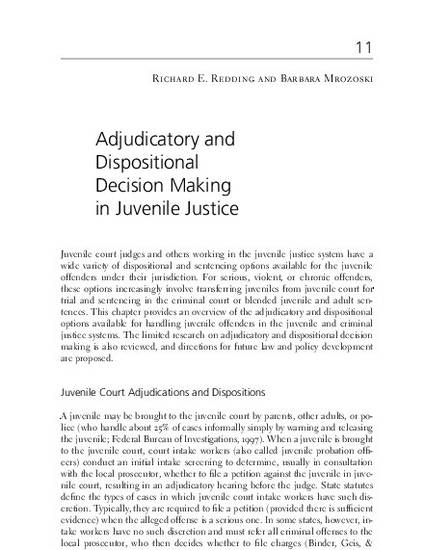 Contribution to Book
Adjudicatory and Dispositional Decision Making in Juvenile Justice
Juvenile Deliquency: Prevention, Assessment and Intervention (2005)
Abstract
Juvenile court judges and others working in the juvenile justice system have a wide variety of dispositional and sentencing options available for the juvenile offenders under their jurisdiction. For serious, violent or chronic offenders, these options increasingly involve transferring juveniles from juvenile court for trial and sentencing in the criminal court as well as blended juvenile and adult sentences. This chapter provides an overview of the adjudicatory and dispositional options available for handling juvenile offenders in the juvenile and criminal justice systems. The research on adjudicatory and dispositional decision making is reviewed, and directions for future law and policy development are proposed.
Keywords
juveniles,
juvenile offenders,
criminal law,
family and children's law,
law and society,
experimental and empirical studies
Editor
K. Heilbrun, N.E. Goldstein, and R.E. Redding
Publisher
Oxford University Press
Citation Information
Richard E. Redding. "Adjudicatory and Dispositional Decision Making in Juvenile Justice"
Juvenile Deliquency: Prevention, Assessment and Intervention
(2005)
Available at: http://works.bepress.com/richard_redding/8/