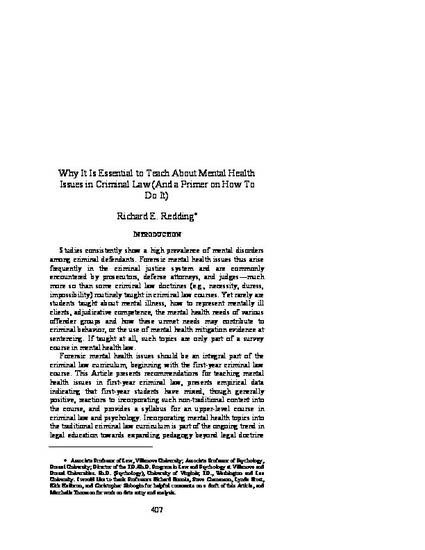 Article
Why It Is Essential to Teach About Mental Health Issues in Criminal Law (and a Primer on How to Do It)
Washington University Journal of Law & Policy (2004)
Abstract
Studies consistently show a high prevalence of mental disorders among criminal defendants. Forensic mental health issues thus arise frequently in the criminal justice system and are commonly encountered by prosecutors, defense attorneys, and judges - much more so than some criminal law doctrines (e.g., necessity, duress, impossibility) routinely taught in criminal law courses. Yet rarely are students taught about mental illness, how to represent mentally ill clients, adjudicative competence, the mental health needs of various offender groups and how these unmet needs may contribute to criminal behavior, or the use of mental health mitigation evidence at sentencing. If taught at all, such topics are only part of a survey course in mental health law. Forensic mental health issues should be an integral part of the criminal law curriculum, beginning with the first-year criminal law course. This Article presents recommendations for teaching mental health issues in first-year criminal law, presents empirical data indicating that first-year students have mixed, though generally positive, reactions to incorporating such non-traditional content into the course, and provides a syllabus for an upper-level course in criminal law and psychology. Incorporating mental health topics into the traditional criminal law curriculum is part of the ongoing trend in legal education towards expanding pedagogy beyond legal doctrine into relevant social science disciplines that can inform legal policy and students' understanding of the criminal justice system, perhaps more so than many of the doctrinal lessons we now teach.
Keywords
Criminal Law,
mental health law,
legal education,
mental disorders,
forensic issues,
teaching,
pedagogy
Citation Information
Richard E. Redding. "Why It Is Essential to Teach About Mental Health Issues in Criminal Law (and a Primer on How to Do It)"
Washington University Journal of Law & Policy
Vol. Vol. 14 (2004)
Available at: http://works.bepress.com/richard_redding/7/