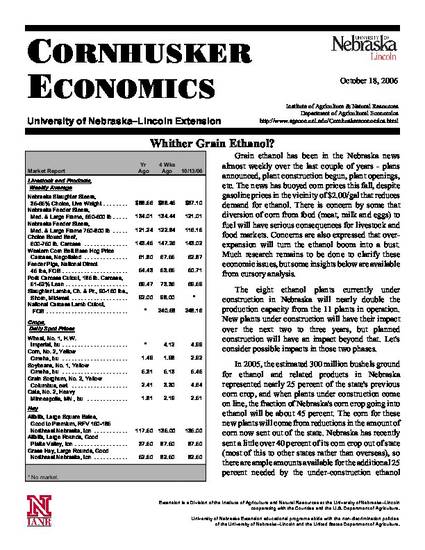 Other
Whither Grain Ethanol?
Cornhusker Economics
Date of this Version
10-18-2006
Abstract
Grain ethanol has been in the Nebraska news almost weekly over the last couple of years - plans announced, plant construction begun, plant openings, etc. The news has buoyed corn prices this fall, despite gasoline prices in the vicinity of $2.00/gal that reduces demand for ethanol. There is concern by some that diversion of corn from food (meat, milk and eggs) to fuel will have serious consequences for livestock and food markets. Concerns are also expressed that overexpansion will turn the ethanol boom into a bust. Much research remains to be done to clarify these economic issues, but some insights below are available from cursory analysis.
Citation Information
Richard K Perrin. "Whither Grain Ethanol?" (2006)
Available at: http://works.bepress.com/richard_perrin/25/